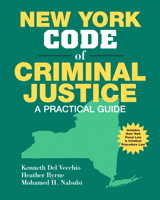 Description
For courses in Criminal Justice, Criminal Law, and Policing.
Specific to the state of New York, this book has taken on the monumental task of explaining what the criminal statutes mean. The first of its kind, it contains every statute found in the New York penal code and every New York motor vehicle statute, all in complete verbatim text. Chapters are accompanied by illustrative stories and practical application sections that draw readers in and help them apply statutes to realistic situations. Its goal is to decipher each New York statute ineasy-to-understand terms–discussing what the statutes mean, how one charges under them, the differences among them and the elements of the offenses.
Table of Contents
PART 1 - GENERAL PROVISIONS
Title A — General Purposes, Rules of Construction and Definitions
General Purposes
General Rules of Construction and Application
Definitions
Title B — Principles of Criminal Liability
Culpability
Parties to Offenses and Liability Through Accessorial Conduct
Title C — Defenses
Defenses in General
Defense of Infancy
Defense of Justification
Other Defenses Involving Lack of Culpability
PART 2 — SENTENCES
Title E - Sentences
Classification and Designation of Offenses
Authorized Dispositions of Offenders
Sentences of Probation, Conditional Discharge and Unconditional Discharge
Sentences of Imprisonment
Fines
Sentence of Intermittent Imprisonment
PART 3 — SPECIFIC OFFENSES
Title G — Anticipatory Offenses
Criminal Solicitation
Conspiracy
Attempt
Criminal Facilitation
Title H — Offenses Against the Person Involving Physical Injury, Sexual Conduct, Restraint and Intimidation
Assault and Related Offenses
Homicide, Abortion and Related Offenses
Sex Offenses
Kidnapping, Coercion and Related Offenses
Title I — Offenses Involving Damage to and Intrusion Upon Property
Burglary and Related Offenses
Criminal Mischief and Related Offenses
Arson
Title J — Offenses Involving Theft
Larceny
Offenses Involving Computers; Definition of Terms
Welfare Fraud
Robbery
Other Offenses Related to Theft
Title K — Offenses Involving Fraud
Forgery and Related Offenses
Offenses Involving False Written Statements
Insurance Fraud
Criminal Diversion of Prescription Medications and Prescriptions
Robbery Not Involving Public Servants, and Related Offenses
Frauds on Creditors
Other Frauds
Title L — Offenses Against Public Administration
Official Misconduct and Obstruction of Public Servants Generally
Bribery Involving Public Servants and Related Offenses
Escape and Other Offenses Relating to Custody
Perjury and Related Offenses
Other Offenses Relating to Judicial and Other Proceedings
Title M — Offenses Against Public Health and Morals
Controlled Substances Offenses
Offenses Involving Marihuana
Gambling Offenses
Prostitution Offenses
Obscenity and Related Offenses
Title N — Offenses Against Public Order, Public Sensibilities and the Right to Privacy
Offenses Against Public Order
Harassment of Rent Regulated Tenants
Offenses Against Public Sensibilities
Offenses Against the Right to Privacy
Title O — Offenses Against Marriage, the Family, and the Welfare of Children and Incompetents
Offenses Affecting the Marital Relationship
Offenses Relating to Chlildren, Disabled Persons and Vulnerable Elderly Persons
Sexual Performance by a Child
Title P — Offenses Against Public Safety
Firearms and Other Dangerous Weapons
Other Offenses Relating to Public Safety
Offenses Relating to Unauthorized Recording
PART 4 — ADMINISTRATIVE PROVISIONS
Title W — Provisions Relating to Firearms, Fireworks, Pornography Equipment and Vehicles Used in the Transportation of Gambling Records
Licensing and Other Provisions Relating to Firearms
Licensing and Other Provisions Relating to Fireworks
Seizure and Forfeiture of Equipment Used in Promoting Pornography
Seizure and Forfeiture of Vehicles, Vessels and Aircraft Used to Transport or Conceal Gambling Records
Seizure and Destruction of Unauthorized Recordings of Sound and Forfeiture of Equipment Used in the Production Thereof
Disposal of Stolen Property
Title X — Organized Crime Control Act
Enterprise Corruption
Money Laundering
Criminal Forfeiture — Felony Controlled Substances Offenses
Title Y — Hate Crimes Act of 2000
Hate Crimes
Title Y-1
Terrorism
Title Z — Laws Repealed; Time of Taking Effect
Laws Repealed; Time of Taking Effect
Appendix A — Criminal Procedure Law of New York State
Appendix B — Vehicle and Traffic Law of New York State
Index
Purchase Info ?
With CourseSmart eTextbooks and eResources, you save up to 60% off the price of new print textbooks, and can switch between studying online or offline to suit your needs.
Once you have purchased your eTextbooks and added them to your CourseSmart bookshelf, you can access them anytime, anywhere.
Buy Access
New York Code of Criminal Justice: A Practical Guide, CourseSmart eTextbook
Format: Safari Book
$28.99 | ISBN-13: 978-0-13-503397-5