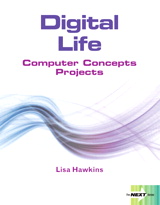 Description
For use in the Computer Concepts course
¿
Making it easy to teach what's next!

The Next Series provides innovative instructors with a high-quality, academic teaching solution that focuses on the next great technologies and innovations.

The Next Series is a teaching and learning tool that was designed for use in a classroom setting, encouraging students to learn by using these new technologies hands-on.
Table of Contents
Table of Contents
Living with Technology
How it used to be

Scenarios of life without technology

How technology could have helped

Benefits of using technology

Work

Education

Daily living
Capturing and Editing Video and Audio
Built-in

Windows Live Movie Maker

Downloadable

Jing and Fraps

Screen capture and video capture

ScreenCast.com

Free hosting with limited storage

Links can embed in Voice Threads, or Slideshare
Editing Photos
Built-in/Online Programs

Windows Live Photo Gallery

Picasa

Downloadable Free Programs

FastStone

GIMP

Sharing photos

Flickr

End of Chapter Activities:
BeFunky

Smartphone Apps

PSExpress

iSwap

PerfectPhoto

Juxtaposer

Fun things to do with your photos

UFO

JamYourFace
Posting Videos and Podcasts
YouTube Videos

Logging in with a Google account

Posting content to advertise a business

Podcasts and Vlogs

Creating and posting content

PodOMatic
End of Chapter Activities:
Capturing video on your smartphone

Posting the video

Finding videos on YouTube

Downloading podcasts to your smartphone
Presenting- Software to Tell Your Story
Prezi

Presentations in motion

SlideShare

Uploading content to the web

Using online storage and saving your organization's servers

Voice Threads

Turn your presentations and video captures into an interactive discussion

End of Chapter Activities:
Doceri

Using a tablet to turn your desktop into a whiteboard

ThinkFreeShow

Manage your documents from anywhere

Multiple smartphone platforms

Shape Collage

Creating forms from pictures

Wordle

Creating word clouds
Instant Communication Through Sites and Apps
Instant Messaging

MSN Messenger, AIM, Facebook Chat

VOIP- Skype conference calls

video calls
End of Chapter Activities:
Bump- sharing contacts, pictures and more

The smartphone app that allows users to tap phones to share information

Video chat on your smart phone with Tango

Requires wifi not gs

Combining chats with Pidgin and Trillion

Getting the Word Out and Staying Connected
Social networking

Facebook

Posting, pics, and privacy

Twitter

TinyURL- URLs that fit within Twitter guidelines

Be careful- think before you post

Lost scholarship example

LinkedIn

Creating a professional social network

QR Codes

Smartphone Scanners

Connecting print to the 3D world

Sending customers to Facebook or webpages

Providing text, pics, or contact information

Including Google directions
End of Chapter Activities:
Ning, Xing, MySpace, Orkut, Bebo

Hi5

Social online gaming

Craigslist (and Craigslist Pro+)

Job listings, Ecommerce, and Social aspects

Securely using the site

FourSquare

Offering mayorships and discounts to frequent visitors

Google Page Creator

Creating Free webpages

ITunes

ITunesU

Free content
Getting You There and Keeping You Busy When You Arrive
Google Maps

Street View

Adding destinations to your trip

App with Traffic

Google Earth

Birds-eye view

Geotags

Finding the "good" ones

TripAdvisor, Yelp, & AroundMe
End of Chapter Activities:
Mapquest

Highway Road Conditions and Cams

Google Latitude

Where are you? GPS tracking through Google
Finding and Providing Answers- Educational Tools
Reference and Research

TED

Google Scholar

Zotero

Interactive

Hot Potato

iTunes

YouTube
End of Chapter Activities:
Translate

Translating languages

Translating pictures of signs written in other languages

VideoJug

How to videos

Way back Machine

What did that website originally say?

RSS feeds

Dictionary and Thesaurus.com

Awesome Highlighter

Directing readers to important points
Getting the Job Done
Programs to expedite work and school related tasks

Google Docs

Tracking Web Traffic with Google Analytics

Dropbox

Sharing documents online, securely
End of Chapter Activities:
Track Shipments on Smartphones

VirusTotal

Free website virus scanning

Scan a web link before you click on it

Zipping files and folders (this already appears in Visualizing Technology)

Cam Card

JotNot

Good Reader

Read documents "on the go"
Saving Time, Money, and Frustration
Saving money while shopping

CardStar

Scan your phone instead of your store card

No more keytags or cards in your wallet

SavingsStar

Coupon Sherpa

GeoQpons

Grocery Gadget

Smartphone app that allows users to sync phones and share grocery lists

Items are marked off the grocery list as shoppers in your group purchase the item

FreeCycle

Recycling by gifting items to individuals or non-profit organizations

FlowTorch and Mint

Managing finances
End of Chapter Activities:
Crime Reports

Courts.state.us

Spokeo

OpenTable

Reserving a table at a restaurant

Find open tables near you

Restaurant
Keeping Entertained
Free online music

Pandora

iHeartRadio

Online t.v. and movies

HuLu

Netflix

AMC Mobile

Geocaching.com

GPS geotracking

Health related sites and apps

Nike, Zombie attack, Calorie counters

Couch to 5k
End of Chapter Activities:
Identify songs with SoundHound

Fandango,

Buy movie tickets and see trailers

Slacker

Last.fm

Xfinity
Integrating Web Applications With Smartphones
iCloud

Google Calendar

Firefox Add-ons
End of Chapter Activities:
Synchronize Content

Evaluating options
End of Chapter Activities:
Calendar

Email

Uploading Youtube videos from a smartphone

Liking Websites
Appendix A
A Day in the Life of…You
Putting it all together

Integrating technology into everyday life

Using sites and apps in the real world

Slowly integrate technology into your life
Appendix B
Informative, fun, and helpful websites. Examples: lookstogoodtobetrue.com, thisiswhyimbroke.com, letmegooglethatforyou.com, codeacademy.com (works with Visualizing Technology chapter 12) or digg.com
Purchase Info ?
With CourseSmart eTextbooks and eResources, you save up to 60% off the price of new print textbooks, and can switch between studying online or offline to suit your needs.
Once you have purchased your eTextbooks and added them to your CourseSmart bookshelf, you can access them anytime, anywhere.
Buy Access
Next Series: Digital Life, CourseSmart eTextbook
Format: Safari Book
$40.99 | ISBN-13: 978-0-13-305629-7