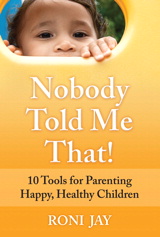 Description
As parents, we worry constantly: Will our kids grow up healthy? Independent? Happy? Are we doing all we can for them? Are we making the most of the time we have with them?
Everyone's got advice. If we followed it all, we'd never sleep. (Maybe we already don't.)
This book will help you focus on what really matters. The 10 things you need to do to raise kids who are: confident and resilient; ethical and loving; competent, responsible, and fulfilled; engaged and enthusiastic.
What to do, and how to do it: Read this book, use its lessons, and then, relax.
As a parent, you can't do everything, no matter how hard you try: nobody can. Given that, how do you make sure to do the things that are most important? The things that'll help your kids enjoy their childhoods and help them grow into healthy, confident, successful, happy adults? Nobody Told Me That! has the answers. Renowned parenting expert and author Roni Jay has studied what the most successful parents do and distilled those insights into 10 core principles: what you really need to do when you can't possibly do it all. Plenty of books focus on parenting babies and toddlers: This one's designed to support and inspire you the rest of the way, from age 2 to your kids' college years, and beyond. Roni Jay doesn't just identify the principles you need to know: She covers the hard part—actually applying them in your own family. With Jay's help, you'll enjoy your kids more...they'll enjoy you more...and they'll grow up with the solid foundation they need to find their own paths, build their own lives, and thrive!
• Help your kids build unshakable confidence and self-assurance
Give them a rock-solid foundation that's always there for them
• Give your kids some magic in an unmagical world
Find the space and time for enchantment–and fend off the magic-killers
• Make sure they know right from wrong and the value of money
What your kids really need to learn and how to get it across
• Get your kids to think, lead–and even clean up their rooms
Build real grownups, one loving day at a time
Table of Contents
About the Author xii
Introduction xiii
Tool 1: Make Their World Solid 1
Tool 2: Give Them Some Magic 23
Tool 3: Show Them How to Separate Right from Wrong 37
Tool 4: Teach Them to Think 49
Tool 5: Let Them Lead You 67
Tool 6: Forget Quality Time 83
Tool 7: Make Sure You See the Forest and the Trees 97
Tool 8: Teach Them the Value of Money 117
Tool 9: Show Them That Broccoli Can Be Fun 135
Tool 10: Give Them Each Other 159
Index 179
Purchase Info
ISBN-10: 0-13-306869-2
ISBN-13: 978-0-13-306869-6
Format: eBook (Watermarked)?
This eBook includes the following formats, accessible from your Account page after purchase:
EPUBThe open industry format known for its reflowable content and usability on supported mobile devices.
MOBIThe eBook format compatible with the Amazon Kindle and Amazon Kindle applications.
PDFThe popular standard, used most often with the free Adobe® Reader® software.
This eBook requires no passwords or activation to read. We customize your eBook by discreetly watermarking it with your name, making it uniquely yours.
Includes EPUB, MOBI, and PDF
$15.99
Add to Cart