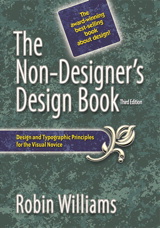 Description
This book is the one place readers can turn to find quick, non-intimidating, excellent design help from trusted design instructor Robin Williams. This revised classic--now in full color--includes a new section on the hot topic of Color itself. In The Non-Designer's Design Book, 3rd Edition, Robin turns her attention to the basic principles that govern good design. Readers who follow her clearly explained concepts will produce more sophisticated and professional pages immediately. Humor-infused, jargon-free prose interspersed with design exercises, quizzes, and illustrations make learning a snap--which is just what audiences have come to expect from this best-selling author.
Table of Contents
Design Principles
1 The Joshua Tree Epiphany
2 Proximity
3 Alignment
4 Repetition
5 Contrast
6 Review
7 Using Color
8 Extra Tips & Tricks

Designing Wth Type
9 Type (& Life)
10 Categories of Type
11 Type Contrasts

Extras
12 So, Does it Make Sense?
13 Answers to Quizzes
14 Typefaces in this Book
Appendix
Index


Purchase Info ?
With CourseSmart eTextbooks and eResources, you save up to 60% off the price of new print textbooks, and can switch between studying online or offline to suit your needs.
Once you have purchased your eTextbooks and added them to your CourseSmart bookshelf, you can access them anytime, anywhere.
Buy Access
Non-Designer's Design Book, CourseSmart eTextbook, The, 3rd Edition
Format: Safari Book
$17.50 | ISBN-13: 978-0-321-62452-9