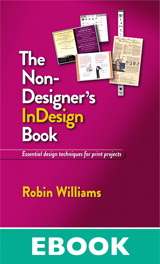 Description
Many designers and photographers own the entire suite of Adobe's creative products, but they manage to learn only one or two of the applications really well. If Adobe InDesign CS5.5 is the one app in the suite that makes you feel like you're entering a foreign country where you don't speak the language, Robin Williams provides the perfect travel guide and translator in this new edition to the best-selling Non-Designer's series.

This fun, straight-forward, four-color book includes many individual exercises designed specifically to teach InDesign CS5.5 to beginners in such a way that you can jump in at any point to learn a specific tool or technique. Along the way, Robin offers design tips for making your work communicate appropriately and beautifully.

Whether you need to create your own marketing materials for a small business or organization, or you want your student or business papers to be perceived as more professional, or you want to become more proficient with the design tools you already use, this book is the fastest and most efficient path to mastering basic tasks InDesign.

In this non-designer's guide to InDesign CS5.5, you'll learn:
How to create basic design projects, such as flyers, business cards, letterhead, ads, brochures, CD covers, and much more
How to add images to your pages and crop, rotate, resize, and add effects to those images
How to use InDesign's typographic tools to make your work look professional
How to use style sheets so every job is easier to create and work with
How to use tabs and indents with confidence and predictability
How to create nice-looking tables to effectively organize data
And, of course, the basics of working in InDesign with layers, panels, tools, etc.
Table of Contents
1 What is InDesign?
A. What you can do with it
a. The difference between a word processor and InDesign
b. The joy of an object-oriented application
B. What you can not do with it
Includes a chart with a list of projects indicating when you might use a word processor,
InDesign, Photoshop, Illustrator, or other app for that particular project.

2 Quick Sample Projects
The sample projects allow readers to quickly and easily develop small design ideas using
the basic tools; they provide an immediate interaction with the application and a feeling of
empowerment. The projects also provide examples of typical sorts of projects for which you
might use this particular application.
A. Flyer: learn to use the most common tools; work with an object-oriented program;
organize, adjust, finetune, redesign.
This project emphasizes the things you already know how to do
and teaches new skills to supplement what you already know.
B. The InDesign interface—learn to control the panels
C. Brochure: Multiple columns, import text, create text, place graphics, etc.
D. Multiple page project: Eight-page booklet; using facing pages; importing lengthy text,
master pages, etc.

3 Formatting
A. How to do the things you already know how to do
B. Defaults: set them before you start working; learn to manipulate them
C. Fonts; where to get inexpensive ones; use the Glyph palette for OpenType fonts;
avoid fake styles
Most users of the Adobe suite of products end up with at least InDesign, Photoshop,
and Illustrator on their computers. This book is for those who might be power users
of Photoshop, Illustrator, or even Dreamweaver, but are a bit lost in a text-based pagelayout
application such as InDesign. It is also a book for those who have been using word
processors or entry-level design apps to create their work and are ready to develop a
more professional look.
This book includes many individual exercises designed specifically to teach the tools
and ideas that InDesign offers, and along the way offers many design tips for nondesigners.
It does not, however, create one giant project from beginning to end—rather,
the individual exercises ensure that a reader can jump in at any point to learn a specific
tool or technique. Text and graphic files will be provided on an included cd so readers
and instructors will have the assets available to work with.

4 Graphics
A. Drawing tools
B. Importing graphics
C. How to manipulate graphics
a. Resize, rotate, crop, paste into, etc.
b. Make adjustments in Photoshop with a click
D. How to place multiple graphics
E. RGB vs. CMYK; jpg vs. tiff; when to use which model/format
F. What to do about missing links

5 Color
A. RGB vs. CMYK; when to use which one
B. The Swatches palette vs. the Color palette; how to use them
a. How to create colors; how to copy colors
b. How to apply colors; what kinds of graphics you can apply color to

6 Spacing
A. One of the three most important things to learn—this is what makes the difference
between amateur and professional design work.
B. Space between letters
C. Space between words
D. Space between lines
E. Space between paragraphs
F. Space above and below headines and subheads

7 Tabs and Indents
A. One of the three most important things to learn—never use the Spacebar to indent.
Includes excercises for simple tabs and indents, hanging indents, hanging outdents,
numbered lists, columns, etc.

8 Style Sheets
A. One of the three most important things to learn—you waste huge amounts of time
if you don't know how to use style sheets!
B. What they do; why to use them
C. How to create and use style sheets using everything you already know about
formatting, spacing, tabs and indents, etc.

9 Extra Fun Things
A. Type on a curve
B. Text wrap; import a graphic with a path
C. Drop shadows and other effects
D. Text as outline; why, when, how to manipulate
E. Create a path around a graphic to remove the background
F. Etcetera . . .

10 Going to Press
The Non-Designer's InDesign Book • Robin Williams 2
A. Print booklets on your desktop printer
B. Check your links, fonts, etc.; "package" your file
C. Press specifications for projects such as online printing at PrintPlace.com;
book projects at Blurb.com, Lulu.com, or CreateSpace.com (note re the book features
of InDesign)
D. Create an eBook
E. Create a PDF or a Digital Edition file
F. Save a file for an earlier version of InDesign
Purchase Info
ISBN-10: 0-13-273300-5
ISBN-13: 978-0-13-273300-7
Format: eBook (Watermarked)?
This eBook includes the following formats, accessible from your Account page after purchase:
EPUBThe open industry format known for its reflowable content and usability on supported mobile devices.
MOBIThe eBook format compatible with the Amazon Kindle and Amazon Kindle applications.
PDFThe popular standard, used most often with the free Adobe® Reader® software.
This eBook requires no passwords or activation to read. We customize your eBook by discreetly watermarking it with your name, making it uniquely yours.
Includes EPUB, MOBI, and PDF
$27.99
Add to Cart