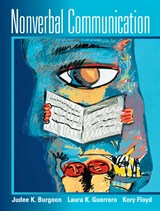 Description
Drawing significantly on both classic and contemporary research, Nonverbal Communication speaks to today's students with modern examples that illustrate nonverbal communication in their lived experiences.
This new edition, authored by three of the foremost scholars in nonverbal communication, builds on the approach pioneered by Burgoon, Buller and Woodall which focused on both the features and the functions that comprise the nonverbal signaling system. Grounded in the latest multidisciplinary research and theory, Nonverbal Communication strives to remain very practical, providing both information and application to aid in comprehension.
Table of Contents
Table of Contents:
PART 1: INTRODUCTION
1: Introduction
2: Cultural influences on nonverbal communication
3: Bio-evolutionary influences on nonverbal communication
PART 2: NONVERBAL CODES
4: The body as a code: Appearance and Adornment
5: The Visual and Auditory Codes: Kinesics and Vocalics
6: The Contact Codes: Proxemics and Haptics
7: The Place and Time Codes: Environment, Artifacts, and Chronemics
PART 3: NONVERBAL COMMUNICATION FUNCTIONS
8: Message Production and Processing
9: Social cognition and Forming Impressions
10: Expressing Real and Desired Identities
11: Expressing Emotions
12: Relational Messages: Affection and Intimacy
13: Relating: Messages: Power, Dominance and Influence
14: Making Connections and Managing Conversations
15: Deceiving others
Purchase Info ?
With CourseSmart eTextbooks and eResources, you save up to 60% off the price of new print textbooks, and can switch between studying online or offline to suit your needs.
Once you have purchased your eTextbooks and added them to your CourseSmart bookshelf, you can access them anytime, anywhere.
Buy Access
Nonverbal Communication, CourseSmart eTextbook
Format: Safari Book
$47.99 | ISBN-13: 978-0-205-64483-4