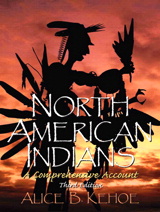 Description
For Native American courses taught in anthropology, history and Native American Studies.
This is a comprehensive and thought-provoking approach to the history of the native peoples of North America (including Mexico and Canada) and their civilizations.
Table of Contents
Introduction.
1. The Americas' Earliest Humans.
2. The Rise of the Mexican Nations.
3. The Greater Southwest.
4. The Southeast.
5. The Northeast.
6. The Prairie-Plains.
7. The Intermontane West and California.
8. The Northwest Coast.
9. The Arctic and Subarctic.
10. First Nations of North America Enter the Twenty-First Century.
Appendix: Anthropology and American Indians.