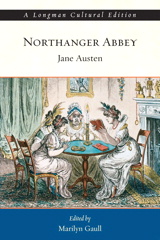 Description
From Longman's Cultural Editions series, Northanger Abbey, edited by Marilyn Gaull, presents Jane Austin's classic work along with a critical introduction and contextual materials on and from the period.
Handsomely produced and affordably priced, the Longman Cultural Editions series presents classic works in provocative and illuminating contexts–cultural, critical, and literary. Each Cultural Edition consists of the complete text of an important literary work, reliably edited, headed by an inviting introduction, and supplemented by helpful annotations; a table of dates to track its composition, publication, and public reception in relation to biographical, cultural and historical events; and a guide for further inquiry and study.
The following Longman Cultural Editions are available now: Beowulf, Hamlet, Othello, Pride and Prejudice, Frankenstein, and Hard Times. Titles available for fall include: King Lear, Keats, and The Merchant of Venice. Available for spring 2005: Keats. One Cultural Edition can be packaged FREE with The Longman Anthology of British Literature by Damrosch et al, or at a discount with any other Longman textbook.
Table of Contents
List of Illustrations.
About Longman Cultural Editions.
About this Edition.
Jane Austen's Life and Times.
Introduction.
Table of Dates.
Northanger Abbey.
Contexts.
The Romance Plot.
Cupid and Psyche.
Gothic Romance.
Horace Walpole The Castle of Otranto.
William Beckford Vathek.
Matthew Gregory Lewis The Monk.
Ann Radcliffe.
Supernaturalism (Biographia Literaria).
Sensibility.
Sublime (Curiosity).
The Mysteries of Udolpho.
The Italian—Schedoni.
Gothic Decline.
Gothic Parody.
Beckford, Azemia.
Eaton Stannard Barrett The Heroine.
T.L. Peacock Nightmare Abbey.
Bath, England.
"Faery lands forlorn."
Tobias Smollett, The Expedition of Humphrey Clinker.
From Gothic Romance to Historical Novel.
Sir Walter Scott Waverley.
The Picturesque, Enclosures, and Anti-Picturesque.
The Picturesque.
William Gilpin Observations on the River Wye.
James Plumptre The Lakers.
Enclosures and the Anti-Picturesque.
George Crabbe The Village.
Reviews of Northanger Abbey.
British Critic.
Blackwood's Edinburgh Magazine.
Bibliography.
Suggestions for Further Reading.
Purchase Info ?
With CourseSmart eTextbooks and eResources, you save up to 60% off the price of new print textbooks, and can switch between studying online or offline to suit your needs.
Once you have purchased your eTextbooks and added them to your CourseSmart bookshelf, you can access them anytime, anywhere.
Buy Access
Northanger Abbey, A Longman Cultural Edition, CourseSmart eTextbook
Format: Safari Book
$8.99 | ISBN-13: 978-0-205-82230-0