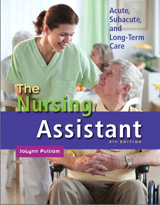 Description
The Nursing Assistant, Fifth Edition is a concise, practical, affordable, and up-to-date guide to the skills today's nursing assistants need to master. It is designed both to serve as the basis of any nursing assistant training program, and to prepare students for careers in acute, subacute, or long-term care. It addresses the needs of the whole patient or resident, while promoting independence and self-care. Carefully organized to follow nursing process models, state curricula, and OBRA mandates, it walks through 75 step-by-step procedures reflecting the most common nursing assistant tasks. This edition is fully updated for the newest CDC and OSHA guidance for hand cleaning and infection control, and to reflect other relevant federal laws, including HIPAA.
Table of Contents
PART ONE: THE ROLE OF THE NURSING ASSISTANT
1. Introduction to Health Care
2. The Nursing Assistant
3. Communication and Interpersonal Skills
4. Relating to Your Patients
PART TWO: SAFETY FOR THE PATIENT AND THE NURSING ASSISTANT
5. Infection Control
6. Environmental Safety, Accident Prevention, and Disaster Plans
7. Emergency Situations
PART THREE: BASIC NURSING SKILLS
8. Body Systems and Common Diseases
9. Vital Signs
10. Positioning, Moving, and Ambulation
11. Admission, Transfer, and Discharge
12. The Patient's Environment
13. Hygiene and Grooming
14. Special Skin Care
15. Nutrition
16. Elimination Needs
17. Specimen Collection and Testing
18. AM and PM Care
19. Restorative Care and Rehabilitation
PART FIVE: SPECIALIZED CARE PROCEDURES
20. Additional Patient Care Procedures
21. Preoperative and Postoperative Care
22. Subacute Care
23. Special Skills in Long-Term Care
24. Death and Dying
Glossary
Procedures
Enhance your learning experience with text-specific study materials.
This title is also sold in the various packages listed below. Before purchasing one of these packages, speak with your professor about which one will help you be successful in your course.
Package ISBN-13: 9780132855150
Includes this title packaged with:
Workbook (Student Activity Guide) for Nursing Assistant, The: Acute, Subacute, and Long-Term Care, 5th Edition
JoLynn Pulliam
$107.97 $102.57 | Add to Cart