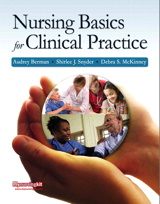 Description
Turn your students into competent and confident nurses by getting back to basics. Nursing Basics for Clinical Practice is a new approach to learning the fundamentals of nursing. With a solid grounding in client-focused nursing care, critical thinking, evidence based practice, clinical practice and NCLEX success, your students will get vital information in a practical format, so they can learn it today, and practice it tomorrow!
Table of Contents
Table of Contents - Nursing Basics for Clinical Practice, 1e
Unit I The Nature of Nursing
1 Principles of Nursing and Evidence-Based Practice
2 Legal and Ethical Aspects of Nursing
3 Health Care Delivery Systems
4 Cultural and Heritage
5 Health Beliefs and Practices
Unit II The Nursing Process
6 Critical Thinking and Clinical Reasoning
7 The Nursing Process
8 Informatics, Documentation and Reporting
Unit III -
9 Promoting Health Throughout the Lifespan
10 Promoting Health in Elders
11 Promoting Health in the Family
Unit IV Integral Aspects of Nursing
12 Caring
13 Communicating
14 Teaching
15 Leading, Managing, and Delegating
Unit V Assessing Health
16 Vital Signs
17 Health Assessment
18 Pain Assessment and Management
Unit VI Integral Components of Client Care
19 Asepsis
20 Diagnostic Testing
21 Safety
22 Hygiene
23 Medications
24 Skin Integrity and Wound Care
25 Perioperative Nursing
Unit VII Promoting Psychosocial Health
26 Sensory Perception
27 Self-Concept
28 Sexuality
29 Spirituality
30 Coping with Stress, Loss, and Death
Unit VIII Promoting Physiologic Health
31 Activity, Exercise, and Sleep
32 Nutrition
33 Urinary Elimination
34 Fecal Elimination
35 Oxygenation and Circulation
36 Fluid, Electrolyte, and Acid-Base Balance
Enhance your learning experience with text-specific study materials.
This title is also sold in the various packages listed below. Before purchasing one of these packages, speak with your professor about which one will help you be successful in your course.
Package ISBN-13: 9780134306353
Includes this title packaged with:
Real Nursing Skills 2.0 for Skills -- Access Card -- for the RN Online Version, 2nd Edition
Pearson Education, . . Pearson Education
Student Workbook and Resource Guide for Nursing Basics for Clinical Practice
Audrey T. Berman, Shirlee Snyder, Debra S. McKinney
$250.60 $238.07 | Add to Cart