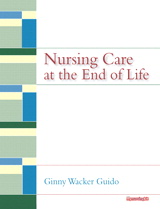 Description
Nursing Care at the End of Life, by Ginny Wacker Guido, presents material ranging from the legal and ethical aspects that affect care to the clinical issues nurses face when dealing with acute illness, pain and dying, to communication and family dynamics. Case studies give readers an opportunity to process and apply the chapter material. The role of the nurse is highlighted throughout the book and each chapter is followed by NCLEX-style review questions.
Table of Contents
Chapter One: Nursing Care at the End-of-Life: Introductory Concepts
Chapter Two: Legal Issues
Chapter Three: Ethical Issues
Chapter Four: Symptom Management: Pain at the End of Life
Chapter Five: Symptom Management: Non Pain Symtomatology at the End of Life
Chapter Six: Hydration and Nutrition at the End of Life
Chapter Seven: Caring for End-of-Life Patients Across the Life Span
Chapter Eight: Communications
Chapter Nine: Psychosocial Considerations
Chapter Ten: Cultural and Spiritual Care at the End of Life
Chapter Eleven: Care for the Caregiver
Purchase Info ?
With CourseSmart eTextbooks and eResources, you save up to 60% off the price of new print textbooks, and can switch between studying online or offline to suit your needs.
Once you have purchased your eTextbooks and added them to your CourseSmart bookshelf, you can access them anytime, anywhere.
Buy Access
Nursing Care at the End of Life, CourseSmart eTextbook
Format: Safari Book
$34.99 | ISBN-13: 978-0-13-508547-9