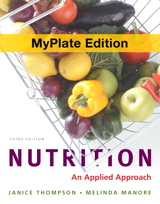 Description
Nutrition: An Applied Approach, MyPlate Edition,Third Edition introduces nutrition in an innovative, applied presentation that helps you retain the material long after you leave the class. Recognizing the natural interest students have in nutrition, the authors demonstrate how it relates to your health and everyday life, and examine commonly held misconceptions. This book focuses on the functions of vitamins and minerals and relates them to everyday health issues that you can easily grasp. The applied content is focused on four key chapters—fluid and electrolyte balance, antioxidant function, bone health, and energy metabolism and blood health. Along with a host of new features, the Third Edition includes updated theory and research findings, developing trends, and tools to challenge nutritional myths and misperceptions.
The MyPlate Edition features a write-to-fit update so that you have the latest nutrition information right within your book. New information includes the new MyPlate graphic (which replaces the former MyPyramid), the 2010 Guidelines, and the new Dietary Reference Intakes.
0321813707/ 9780321813701 is a standalone book that contains a pin code to a free website (Companion Website). There is no access code card . If want the book/access card order the ISBN below:
0321886860 / 9780321886866 Nutrition: An Applied Approach, MyPlate Edition with MyNutritionLab plus MyDietAnalysis
Package consists of
0321813707 / 9780321813701 Nutrition: An Applied Approach, MyPlate
0321816048 / 9780321816047 NEW MyNutritionLab with MyDietAnalysis with Pearson eText -- ValuePack Access Card -- for Nutrition: An Applied Approach, MyPlate Edition
Table of Contents
Chapter 1: The Role of Nutrition in Our Health
In Depth: Alcohol
Chapter 2: Designing a Healthful Diet
In Depth: Phytochemicals
Chapter 3: The Human Body: Are We Really What We Eat?
In Depth: Disorders Related to Specific Foods
Chapter 4: Carbohydrates: Plant-Derived Energy Nutrients
In Depth: Diabetes
Chapter 5: Fats: Essential Energy-Supplying Nutrients
In Depth: Cardiovascular Disease
Chapter 6: Proteins: Crucial Components of All Body Tissues
In Depth: Vitamins and Minerals: Micronutrients with Macro Powers
Chapter 7: Nutrients Involved in Fluid and Electrolyte Balance
In Depth: Dehydration and Fluid Imbalance
Chapter 8: Nutrients Involved in Antioxidant Function
In Depth: Cancer
Chapter 9: Nutrients Involved in Bone Health
In Depth: Osteoporosis
Chapter 10: Nutrients Involved in Energy Metabolism and Blood Health
In Depth: Dietary Supplements: Necessity or Waste?
Chapter 11: Achieving and Maintaining a Healthful Body Weight
In Depth: Obesity
Chapter 12: Nutrition and Physical Activity: Keys to Good Health
In Depth: Disordered Eating
Chapter 13: Food Safety, Systems, and Technology
In Depth: Global Nutrition
Chapter 14: Nutrition Through the Life Cycle: Pregnancy and the First Year of Life
In Depth: The Fetal Environment: A Lasting Impression
Chapter 15: Nutrition Through the Life Cycle: Childhood to Late Adulthood
In Depth: Searching for the Fountain of Youth
Appendices
A: Calculations and Conversions
B: Caffeine Content of Foods
C: U.S. Exchange Lists for Meal Planning
D: Stature-for-Age Charts
E: Organizations and Resources
Answers to Review Questions
Glossary
References
Index
Credits
Purchase Info
ISBN-10: 0-321-81370-7
ISBN-13: 978-0-321-81370-1
Format: Alternate Binding
Digital Choices ?
MyLab & Mastering with Pearson eText is a complete digital substitute for a print value pack at a lower price.
MyLab & Mastering ?
MyLab & Mastering products deliver customizable content and highly personalized study paths, responsive learning tools, and real-time evaluation and diagnostics. MyLab & Mastering products help move students toward the moment that matters most—the moment of true understanding and learning.
+ Other Options
eTextbook ?
With VitalSource eTextbooks, you save up to 60% off the price of new print textbooks, and can switch between studying online or offline to suit your needs.
Access your course materials on iPad, Android and Kindle devices with VitalSource Bookshelf, the textbook e-reader that helps you read, study and learn brilliantly. Features include:
See all of your eTextbooks at a glance and access them instantly anywhere, anytime from your Bookshelf - no backpack required.
Multiple ways to move between pages and sections including linked Table of Contents and Search make navigating eTextbooks a snap.
Highlight text with one click in your choice of colors. Add notes to highlighted passages. Even subscribe to your classmates' and instructors' highlights and notes to view in your book.
Scale images and text to any size with multi-level zoom without losing page clarity. Customize your page display and reading experience to create a personal learning experience that best suits you.
Print only the pages you need within limits set by publisher
Supports course materials that include rich media and interactivity like videos and quizzes
Easily copy/paste text passages for homework and papers
Supports assistive technologies for accessibility by vision and hearing impaired users