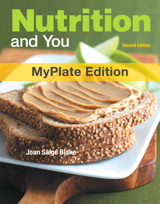 Description
With a new Consumerism chapter, enhanced art and photo program, and timely updates, this Second Edition of Nutrition and You continues to personalize nutrition for students–helping them make healthy nutrition choices and encouraging them to become informed consumers of nutrition information.
This readable, engaging, and motivating presentation introduces each vitamin and mineral in self-contained spreads called Visual Summary Tables that appeal to today's visual learners. Students learn to identify the key aspects of each nutrient at a glance and in a consistent, easy-to-study format. Blake encourages students to relate the science of nutrition to their own dietary habits, enabling them to separate fact from fiction and to distinguish high-quality nutrient sources from those of lesser quality. Blake's approach teaches students to think critically about information sources and the claims made in the popular press and online.
The MyPlate Edition features a write-to-fit update so that students and instructors have the latest nutrition information right within their book (and instructors don't have to change their syllabus). New information includes the new MyPlate graphic (which replaces the former MyPyramid), the 2010 Guidelines, and the new Dietary Reference Intakes.
Table of Contents
1. What is Nutrition?
2. Tools for Healthy Eating
3. Basics of Digestion
4. Carbohydrates: Sugars, Starches and Fiber
5. Fats, Oils and Other Lipids
6. Proteins and Amino Acids
7. Vitamins
8. Minerals and Water
9. Alcohol
10. Weight Management and Energy Balance
11. Nutrition and Fitness
12. Consumerism: From Farm to Table
13. Food Safety
14. Hunger at Home and Abroad
15. Life Cycle Nutrition: Pregnancy through Infancy
16. Life Cycle Nutrition: Toddlers through the Later Years
Appendices: Calculations and Conversions; U.S. Exchange Lists for Meal Planning; Organizations and Resources
Glossary
References
Index
Credits
Purchase Info ?
With CourseSmart eTextbooks and eResources, you save up to 60% off the price of new print textbooks, and can switch between studying online or offline to suit your needs.
Once you have purchased your eTextbooks and added them to your CourseSmart bookshelf, you can access them anytime, anywhere.
Buy Access
Nutrition and You, MyPlate Edition, CourseSmart eText, 2nd Edition
Format: Safari Book
$67.99 | ISBN-13: 978-0-321-81598-9