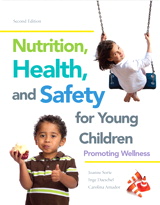 Description
Note: The Enhanced eText features are only available in the Pearson eText format. They are not available in third-party eTexts or downloads, such as CourseSmart.
Written for the Health, Safety, and Nutrition course taught in departments of Early Childhood Education, Child and Family Studies, or Child Development.
This practical text provides teachers of young children with a comprehensive understanding of the nutrition, health, and safety needs of children from birth through school age.
The streamlined second edition of Nutrition, Health, and Safety for Young Children: Promoting Wellness offers an engaging, solid presentation of wellness concepts that prepare early childhood educators to implement healthful practices and teach young children ways to contribute to their own wellness. Through anecdotes, cases, and authentic examples, the authors use a storytelling approach that helps contextualize wellness concepts for readers. This approach and other meaningful pedagogical features promote critical thinking about professional situations, and offer a glimpse into the everyday classroom environment–diverse populations of young children in family child care, child care centers, preschools, and elementary school settings.
Table of Contents
Part 1: Promoting Wellness
Chapter 1: Your Role in Children's Wellness
Part 2: Promoting Good Nutrition
Chapter 2: The Foundations of Optimal Nutrition
Chapter 3: The Science of Nutrition
Chapter 4: Feeding Infants
Chapter 5: Feeding Toddlers, Preschoolers, and School-Age Children
Chapter 6: Menu Planning
Chapter 7: Food Safety
Part 3: Promoting Healthful Practices
Chapter 8: Creating a Climate of Health and Wellness
Chapter 9: Health Screening and Assessment
Chapter 10: Managing Infectious Disease
Chapter 11: Teaching Children with Special Health Care Needs
Chapter 12: Children's Mental Health
Part 4: Promoting Safety
Chapter 13: Enhancing Safety Through Appropriate Environments
Chapter 14: Promoting Safe Practices Through Effective Classroom Management
Chapter 15: Responding to Emergencies
Chapter 16: Child Abuse and Neglect