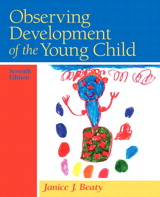 Description
"How can we tell where children stand in their physical, cognitive, socioemotional, language, and creative development? Do we test them? Measure them? Compare them?"
This textbook teaches students how to become observers and how to document their findings using one tool: The Child Development Checklist. The author posits that the best method to determine a child's strengths is for the teacher to observe the young child in the regular classroom based on a particular set of criteria. The reasons for assessing children in this manner are:
It allows students of child development to gain an in-depth understanding of real children and their sequences of growth.

It helps teachers of young children to become aware of each child's growth and to support individual development with appropriate activities and materials.
Once the child's strengths have been assessed, the book then provides suitable lesson plans and activities to support the child's development.
New To This Edition:
NEW! Presents new information on how to become an observer--How to get started, when and how long to observe, what to look for in children, and how to record.
This is critical for new students and teachers. (See Chapter 1 Ex. p. 9, 11, 12)
NEW! Suggests alternative approaches to child assessment—These include visual documentation, i.e. art, photos, videos, and using documentation panels.
This is Important for evaluating both children and program. (See Chapter 1 Ex. pp 23-26).
NEW! Offers new information on self-esteem in young children—Explains how and why a child should develop a secure attachment relationship with a teacher.
Sets the stage for child's success. (See Chapter 3 Ex. pp 81-82).
NEW! Includes new research on the brain showing the importance of physical exercise for children—The research shows that exercises increases brain synapses that improve permanent memory development.
Even clapping helps. (See Chapter 6, Ex.p.267)
Table of Contents
Brief Contents
1 Observing and Assessing Children's Development
2 Collecting and Recording Observational Data
3 Self-Esteem
4 Emotional Development
5 Social Play
6 Prosocial Behavior

7 Large Motor Development

8 Small Motor Development

9 Cognitive Development

10 Spoken Language

11 Emergent Writing and Reading Skills

12 Art and Music Skills

13 Dramatic Play Skills

14 Sharing Observational Data with Families
References
Web Sites
Index of Children's Books
Index
Purchase Info ?
With CourseSmart eTextbooks and eResources, you save up to 60% off the price of new print textbooks, and can switch between studying online or offline to suit your needs.
Once you have purchased your eTextbooks and added them to your CourseSmart bookshelf, you can access them anytime, anywhere.
Buy Access
Observing Development of the Young Child, CourseSmart eTextbook, 7th Edition
Format: Safari Book
$33.00 | ISBN-13: 978-0-13-502557-4