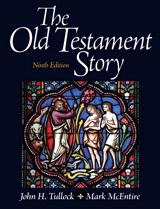 Description
--
Exploring the Literary Structure of the Old Testament
The Old Testament Story is designed for readers with little or no knowledge of the Old Testament.
It provides complete background detail as it follows the story told by the Old Testament/Hebrew Bible. In addition, it examines the separate biblical books and illustrates their literary structure.
Teaching and Learning Experience
Improve Critical Thinking - The Old Testament Story's background details provide students with sufficient information so that they can examine the Old Testament within context.
Engage Students - The Old Testament Story's readable presentation draws students into the material.
Support Instructors - Teaching your course just got easier! You can create a Customized Text or use our Instructor's Manual, or PowerPoint Presentation Slides. Plus, The Old Testament Story provides two levels of structure that will allow your students to analyze all 39 books of the Protestant Christian Old Testament/Hebrew Bible.
Table of Contents
IN THIS SECTION:
1.) BRIEF
2.) COMPREHENSIVE
---
BRIEF TABLE OF CONTENTS:
Chapter 1: The Book and Those Who Study It
Chapter 2: The Geographical and Historical Settings for the Old Testament
Chapter 3: Israel Looks at the Beginnings
Chapter 4: Israel Becomes a People
Chapter 5: Israel Gains a Home: Joshua and Judges
Chapter 6: The Beginning of the Monarchy: Samuel, Saul, and David
Chapter 7: The Division of the Monarchy I: The Reign of Solomon and the Story of the Northern Kingdom
Chapter 8: The Division of the Monarchy II: The Story of the Southern Kingdom
Chapter 9: The Exile and Restoration
Chapter 10: The Prophetic Literature I: An Introduction to Prophetic Literature and the Book of Isaiah
Chapter 11: The Prophetic Literature II: The Scrolls of Jeremiah and Ezekiel
Chapter 12: The Prophetic Literature III: The Book of the Twelve and the Continuation of the Prophetic Tradition
Chapter 13: A Legacy of Israel: Teachers of Wisdom and Singers of Songs
Chapter 14: The Time of Silence: Judah in Eclipse
Chapter 15: Epilogue: The Continuing Story
---
COMPREHENSIVE TABLE OF CONTENTS:
Bibliographical Abbreviations
Maps
Preface

Chapter 1: The Book and Those Who Study It
The Old Testament: What Is It?
How it Began
How It Developed
The Work of Scholars
Archaeology as a Tool for Understanding
Why Study the Old Testament?
Study Questions
Endnotes

Chapter 2: The Geographical and Historical Settings for the Old Testament
Prior to 1200 B. C. E.
The Ancient Near East
Mesopotamia
Asia Minor
Africa
Syria- Phoenicia
Palestine
Study Questions
Endnotes

Chapter 3: Israel Looks at the Beginnings
The Primeval Complex
The Ancestral Complex
Genesis in Retrospect
Study Questions
Endnotes

Chapter 4: Israel Becomes a People
The Book of Israel's Beginnings
Moses: Birth and Wilderness Years
Moses: The Struggle with Pharaoh
The Exodus Event
Sinai and the Giving of the Law
After Mount Sinai
Themes in the Pentateuch
Study Questions
Endnotes

Chapter 5: Israel Gains a Home: Joshua and Judges
Moving into the Promised Land
Continuing the Story of Occupation
Proposed Models for the Israelite Occupation of Canaan
Study Questions
Endnotes

Chapter 6: The Beginning of the Monarchy: Samuel, Saul, and David
The Sources for the History of the Israelite Kingdoms
The Story of Samuel
The Establishment of Saul's Kingship
The Appearance of David
Samuel, Saul, and David: A Summary
David: King Over Judah
David: King Over All Israel
The Court History of David
Study Questions
Endnotes

Chapter 7: The Division of the Monarchy I: The Reign of Solomon and the Story of the Northern Kingdom
Reign of Solomon
Approaching the Divided-Kingdom Story
The Division of the Kingdom
The Dynasty of Omri
Elijah's Confrontation with Ahab and Jezebel
Jehu to Jereboam II (842—746 B. C. E.)
The Destruction of the Northern Kingdom
Study Questions
Endnotes

Chapter 8: The Division of the Monarchy II: The Story of the Southern Kingdom
Judah after the Division
Judah after the Destruction of Israel
Study Questions
Endnotes

Chapter 9: The Exile and Restoration
After the Fall of Jerusalem
The Lives of the Survivors
The Collapse of the Babylonian Empire
The Changing International Situation
The Restored Community
Ezra and Nehemiah
Study Questions
Endnotes

Chapter 10: The Prophetic Literature I: An Introduction to Prophetic Literature and the Book of Isaiah
An Introduction to Prophetic Literature
Introduction to the Book of Isaiah
A Survey of the Contents of the Book of Isaiah
Summary of Isaiah
Study Questions
Endnotes

Chapter 11: The Prophetic Literature II: The Scrolls of Jeremiah and Ezekiel
Introduction to the Book of Jeremiah
Survey of the Contents of the Book of Jeremiah
Introduction to the Book of Ezekiel
Survey of the Contents of the Book of Ezekiel
Study Questions
Endnotes

Chapter 12: The Prophetic Literature III: The Book of the Twelve and the Continuation of the Prophetic Tradition
Introduction to the Book of the Twelve
The Opening Sequence: Hosea, Joel, and Amos
Jerusalem and Nineveh: Obadiah, Jonah, Micah, and Nahum
Shifting the Focus to Babylon: Habakkuk and Zephaniah
The Prophets of the Restoration: Haggai, Zachariah, and Malachi
The End of Prophecy?
Study Questions
Endnotes

Chapter 13: A Legacy of Israel: Teachers of Wisdom and Singers of Songs
The Wisdom Literature
The Psalms: Israel Sings Its Faith
Study Questions
Endnotes

Chapter 14: The Time of Silence: Judah in Eclipse
The Historical Situation
The Festival Scrolls
Defining and Establishing a Place in the World</tocentry>
The Maccabean Revolt
Geographical and Canonical Boundaries and the Book of Daniel
Study Questions
Endnotes

Chapter 15: Epilogue: The Continuing Story
Life in Jewish Communities
The Development of Sectarian Judaism
Literary Activity
Judaism's Oral Tradition
A Closing Statement
Study Questions
Endnotes

Glossary
For Further Study
Comprehensive Chronological Chart
Index