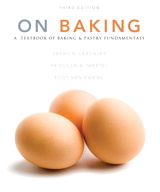 Description
On Baking, Third Edition brings a fresh new design and 350+ new images to the "fundamentals" approach that has prepared thousands of students for successful careers in the baking and pastry arts. It teaches both the "hows" and "whys," starting with general procedures, highlighting core principles and skills, and then presenting many applications and sample recipes. Professionalism, breads, desserts and pastries, and advanced pastry work are each covered in detail, and baking and pastry arts are presented in cultural and historical context throughout. An expanded recipe testing program involving chef-instructors at leading culinary schools ensures superior accuracy, clarity and instructional value. This edition reflects key trends including artisan baking, sensory science, and flavor pairing, and is complemented by a greatly enhanced support package, including media solutions MyCulinaryLab for course management and Pearson Kitchen Manager for recipe management.
This is the stand alone version of the text This text can also be purchased with 2014 MyCulinaryLab with Pearson eText by using ISBN: 0133789489
Table of Contents
Preface
Recipes
Part I. Professionalism and the Bakeshop
1. Professionalism
2. Tools and Equipment for the Bakeshop
3. Principles of Baking
4. Bakeshop Ingredients
5. Mise En Place
Part II. Breads
6. Quick Breads
7. Yeast Breads
8. Enriched Yeast Breads
9. Laminated Doughs
Part III. Desserts and Pastries
10. Cookies and Brownies
11. Pies and Tarts
12. Pastry and Dessert Components
13. Cakes and Icings
14. Custards, Creams and Sauces
15. Ice Cream and Frozen Desserts
16. Healthful and Special-Needs Baking
Part IV. Advanced Pastry Work
17. Tortes and Specialty Cakes
18. Petits Fours and Confections
19. Restaurant and Plated Desserts
20. Chocolate and Sugar Work
Appendix I. Measurement and Conversion Charts
Appendix II. Fresh Fruit Availability Chart
Appendix III. Volume Formulas
Appendix IV. Templates
Glossary
Bibliography
Recipe Index
Subject Index
This title is also sold in the various packages listed below. Before purchasing one of these packages, speak with your professor about which one will help you be successful in your course.