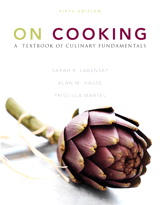 Description
Attractively designed and extensively illustrated with color photographs, line drawings, charts, and sidebars, this contemporary introduction to cooking and food preparation focuses on information that is relevant to today's aspiring chef. Comprehensive and well-written, it emphasizes an understanding of cooking fundamentals, explores the preparation of fresh ingredients, and provides information on other relevant topics, such as food history and food science. This introduction to cooking outlines professionalism, food safety and sanitation, nutrition, recipes and menus, tools and equipment, knife skills, kitchen staples, dairy products, principles of meat, fish and vegetable cookery, garde manger, baking, and presentation. Exciting, new features to this updated edition include:
Healthy Cooking chapter (Chapter 23) combines materials on basic nutrition (Chapter 3 in On Cooking, 4th edition), healthy cooking techniques and cooking for special diets such as vegetarian diets or allergic diets.

Over 250 new photographs emphasize procedural aspects of cooking. Virtually all recipes are now illustrated with photographs.

Updated concept changes to meet the Food Code revision (Chapter 20)

Fresh design, including over 300 new photographs and line drawings Content updates to reflect current trends in the Culinary Arts
This book is an excellent reference for Chefs, Restaurant Managers and others in the food service industry.
Table of Contents
Part 1 PROFESSIONALISM
Chapter 1 Professionalism

Chapter 2 Food Safety and Sanitation

Chapter 3 Menus and Recipes
Part 2 PREPARATION
Chapter 4 Tools and Equipment

Chapter 5 Knife Skills

Chapter 6 Flavors + Flavorings

Chapter 7 Dairy Products

Chapter 8 Mise en Place
Part 3 COOKING
Chapter 9 Principles of Cooking

Chapter 10 Stocks and Sauces

Chapter 11 Soups

Chapter 12 Principles of Meat Cookery

Chapter 13 Beef

Chapter 14 Veal

Chapter 15 Lamb

Chapter 16 Pork

Chapter 17 Poultry

Chapter 18 Game

Chapter 19 Fish + Shellfish

Chapter 20 Eggs + Breakfast

Chapter 21 Vegetables

Chapter 22 Potatoes, Grains and Pasta

Chapter 23 Healthy Cooking
Part 4 GARDE MANGER
Chapter 24 Salads and Salad Dressings

Chapter 25 Fruits

Chapter 26 Sandwiches

Chapter 27 Charcuterie

Chapter 28 Hors d'Oeuvre and Canapés
Part 5 BAKING
Chapter 29 Principles of the Bakeshop

Chapter 30 Quick Breads

Chapter 31 Yeast Breads

Chapter 32 Pies, Pastries and Cookies

Chapter 33 Cakes and Frostings

Chapter 34 Custards, Creams, Frozen Desserts + Sauces
Part 6 PRESENTATION
Chapter 35 Plate Presentation

Chapter 36 Buffet Presentation

AP 1 Professional Organizations

AP 2 Measurement and Conversion Charts

AP 3 Fresh Produce Availability Chart

AP 4 Bibliography and Recommended Reading

Glossary

Index
Enhance your learning experience with text-specific study materials.