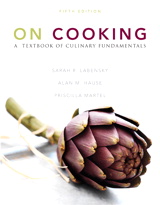 Description
For Introductory Cooking, Cooking Skills or "Food Prep" courses in Culinary Arts, Food and Nutrition and Hospitality Management departments.
For more than 15 years, On Cooking: A Textbook of Culinary Fundamentals has provided Culinary Arts instruction to thousands of aspiring Chefs and guided students toward a successful career in the Culinary Arts with our "time tested" approach intended to teach both the principles and practices of the culinary arts by building a strong foundation based in sound fundamental techniques.
The Labensky team pioneered the first recipe testing program. To date, well over 100 Chef Instructor's have participated in the Pearson Recipe Testing program. We are actively seeking qualified Chef Instructors to test recipes for upcoming projects. If you would like more information regarding the program, or would like to sign up to be part of the Pearson Test Kitchen, please visit www.mypearsontestkitchen.com.
EXCLUSIVE TECHNOLOGY!
i-COOK Student Access is a web-based, Recipe Management Tool. Package a 40 week renewable subscription for only $10.00 with On Cooking, 4th edition. i-COOK Student Access Registration , FREE 14 day Trail!
MyCulinaryLab™, our powerful new technology solution, supplements this edition. MyCulinaryLab™ enables students to study and master content online — in their own time, and at their own pace. Performance is based on summative and formative (study plans, homework, extra practice, pre- and post-tests, etc) assessment in the form of rich media and a personalized study plans tied to specific learning outcomes.
MyCulinaryLab™

MyCulinaryLab, powered by Pearson's own Pegasus platform, is an online assessment and learning system for Culinary Arts instructors and students. With advanced pedagogical features such as personalized study and teaching plans, book-specific learning outcomes and objectives, and standards management, MyCulinaryLab allows for a truly unique, beneficial, and integrated learning experience with the textbook.

FOR STUDENTS:

MyCulinaryLab enables students to review their culinary skills and knowledge online, on their own time, and at their own pace. Students can easily track and evaluate their progress during and after the learning process. Performance is based on summative and formative assessment in the form of study plans, homework, extra practice, pre- and post-tests, etc.

Highlights:

• Study plans and learning and assessment activities to help assess skill levels—students won't waste time re-learning skills they already possess

• Grade book that allows students to view their grades and reports showing their progress

• Interactive multimedia: videos with questions, fill-in-the-blank exercises, matching activities, key concept simulations

FOR INSTRUCTORS

MyCulinaryLab is an easy-to-use online resource designed to supplement a traditional lecture course and provides instructors with basic course management capabilities in the areas of course organization, grades, communication, and personalization of content. Instructors benefit with access to key course management tools such as a robust grade book, integrated course email, and reporting tools.

Reporting features include:

• Data tracking and reporting for students, grades, and question usage

• Detailed student results and performance tracking

Pearson Education is proud to bring world-renowned Dorling Kindersley (DK) products to your classroom. Instantly recognized by their fascinating, full-color photographs and illustrations on every page, With Pearson, you can see DK in a whole new way! For a complete listing of titles, please visit: http://us.dk.com/pearson
Table of Contents
Part 1 PROFESSIONALISM
Chapter 1 Professionalism

Chapter 2 Food Safety and Sanitation

Chapter 3 Menus and Recipes
Part 2 PREPARATION
Chapter 4 Tools and Equipment

Chapter 5 Knife Skills

Chapter 6 Flavors + Flavorings

Chapter 7 Dairy Products

Chapter 8 Mise en Place
Part 3 COOKING
Chapter 9 Principles of Cooking

Chapter 10 Stocks and Sauces

Chapter 11 Soups

Chapter 12 Principles of Meat Cookery

Chapter 13 Beef

Chapter 14 Veal

Chapter 15 Lamb

Chapter 16 Pork

Chapter 17 Poultry

Chapter 18 Game

Chapter 19 Fish + Shellfish

Chapter 20 Eggs + Breakfast

Chapter 21 Vegetables

Chapter 22 Potatoes, Grains and Pasta

Chapter 23 Healthy Cooking
Part 4 GARDE MANGER
Chapter 24 Salads and Salad Dressings

Chapter 25 Fruits

Chapter 26 Sandwiches

Chapter 27 Charcuterie

Chapter 28 Hors d'Oeuvre and Canapés
Part 5 BAKING
Chapter 29 Principles of the Bakeshop

Chapter 30 Quick Breads

Chapter 31 Yeast Breads

Chapter 32 Pies, Pastries and Cookies

Chapter 33 Cakes and Frostings

Chapter 34 Custards, Creams, Frozen Desserts + Sauces
Part 6 PRESENTATION
Chapter 35 Plate Presentation

Chapter 36 Buffet Presentation

AP 1 Professional Organizations

AP 2 Measurement and Conversion Charts

AP 3 Fresh Produce Availability Chart

AP 4 Bibliography and Recommended Reading

Glossary

Index