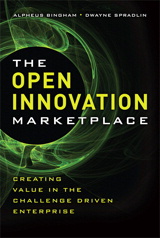 Description
Many technical obstacles to effective innovation no longer exist: today, companies possess global networks that can connect with knowledge from virtually any source. Today's challenge is to collaboratively transform that knowledge into higher-value innovation. Their book introduces groundbreaking strategies and models for consistently achieving this goal.
Authors Alpheus Bingham and Dwayne Spradlin draw on their own experience building InnoCentive, the pioneering global platform for open innovation (a.k.a. "crowdsourcing"). Writing for business executives, R&D leaders, and innovation strategists, Bingham and Spradlin demonstrate how to dramatically increase the flow of high-value ideas and innovative solutions both within enterprises and beyond their boundaries. They show:
Why open innovation works so well.

How to use open innovation to become more agile and entrepreneurial.

How to access Idea Markets more quickly, and get more value from them.

How to overcome new forms of "Not Invented Here" syndrome.

How to implement cultural, organizational, and management changes that lead to greater innovation.

New trends in open innovation–and the opportunities they present.
The authors present many new open innovation case studies, from P&G and Eli Lilly to NASA and the City of Chicago.
Table of Contents
Preface xxi
Chapter 1: Introduction 1
Part I: Challenge Driven Innovation: How a Marketplace of Innovation Allows Us to Reframe the Innovation Model, Improve Performance, and Manage Risk
Chapter 2: The Future of Value Creation 21
Chapter 3: A New Innovation Framework 39
Chapter 4: The Long Tail of Expertise 67
Chapter 5: The Selection of Appropriate Innovation Channels 91
Part II: The Challenge Driven Enterprise: Virtualizing the Business Model to Drive Innovation, Agility, and Value Creation
Chapter 6: The Challenge Driven Enterprise 117
Chapter 7: Transformation 139
Chapter 8: The Challenge Driven Enterprise Playbook 163
Chapter 9: Leadership 199
Afterword 219
Endnotes 221
Supplemental Reading 227
Purchase Info
ISBN-10: 0-13-231282-4
ISBN-13: 978-0-13-231282-0
Format: Safari PTG
This publication is not currently for sale.