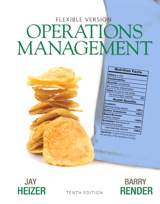 Description
A broad, practical introduction to operations, reinforced with an extensive collection of practice problems.

Operations Management the standalone book presents a broad introduction to the field of operations in a realistic and practical manner, while offering the largest and most diverse collection of problems on the market.
If you want the book/access card and lecture guide order the ISBN below:
0132626063 / 9780132626064 Operations Management Flexible Version & Lecture Guide & myomlab package *
Package consists of:
0132163926 / 9780132163927 Operations Management Flexible Version
0132165848 / 9780132165846 Lecture Guide and Activities Manual for Operations Management Flexible Edition
0136025773 / 9780136025771 myomlab -- Valuepack Access Card
The Flexible Edition of Operations Management contains a separate student lecture guide with all of the end-of-chapter problems and sections for taking notes. This edition has also been thoroughly updated to reflect operations management today—and now features myomlab, Pearson's online homework and tutorial system.


Table of Contents
Part I. Introduction to Operations Management
Chapter 1. Operations and Productivity
Chapter 2. Operations Strategy in a Global Environment
Chapter 3. Project Management
Chapter 4. Forecasting
Part II. Designing Operations
Chapter 5. Design of Goods and Services
Chapter 6. Managing Quality
Supplement 6. Statistical Process Control
Chapter 7. Process Strategy
Supplement 7. Capacity and Constraint Management
Chapter 8. Location Strategies
Chapter 9. Layout Strategies
Chapter 10. Human Resources, Job Design, and Work Measurement
Part III. Managing Operations
Chapter 11. Supply Chain Management
Supplement 11. Outsourcing as a Supply Chain Strategy
Chapter 12. Inventory Management
Chapter 13. Aggregate Planning
Chapter 14. Material Requirements Planning (MRP) and ERP
Chapter 15. Short-Term Scheduling
Chapter 16. JIT and Lean Operations
Chapter 17. Maintenance and Reliability
Part IV. Quantitative Modules

Module A. Decision-Making Tools
Module B. Linear Programming
Module C. Transportation Models
Module D. Waiting-Line Models
Module E. Learning Curves
Module F. Simulation


Enhance your learning experience with text-specific study materials.
These online resources are available at no cost.
Companion Website for Operations Management, 10th Edition
This title is also sold in the various packages listed below. Before purchasing one of these packages, speak with your professor about which one will help you be successful in your course.
Package ISBN-13: 9780132577069
Includes this title packaged with:
Lecture Guide and Activities Manual for Operations Management Flexible Edition, 10th Edition
Jay Heizer, Barry Render
$259.07 | Add to Cart
Purchase Info
Digital Choices ?
MyLab & Mastering with Pearson eText is a complete digital substitute for a print value pack at a lower price.
MyLab & Mastering ?
MyLab & Mastering products deliver customizable content and highly personalized study paths, responsive learning tools, and real-time evaluation and diagnostics. MyLab & Mastering products help move students toward the moment that matters most—the moment of true understanding and learning.
+ Other Options
eTextbook ?
With CourseSmart eTextbooks and eResources, you save up to 60% off the price of new print textbooks, and can switch between studying online or offline to suit your needs.
Once you have purchased your eTextbooks and added them to your CourseSmart bookshelf, you can access them anytime, anywhere.
Print Choices
Loose Leaf Version ?
Books a la Carte are less-expensive, loose-leaf versions of the same textbook.