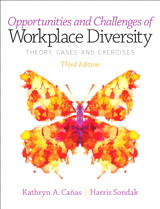 Description
For courses in Diversity, Organizational Behavior, and Human Resource Management.

Uncover and understand the complexities of managing workplace diversity.

Opportunities and Challenges of Workplace Diversity teaches students to uncover and understand the complexities of managing diversity through a unique dialogue of opportunity. Through its three-tiered structure this text effectively explains the complexities of managerial and legal aspects in workplace diversity; presents examples of positive and negative management methods; encourages students to develop a set of skills they will need when managing diversity in their future careers.
Table of Contents
I. UNCOVERING THE COMPLEXITIES OF WORKPLACE DIVERSITY
1. Diversity in the Workplace: A Theoretical and Pedagogical Perspective
2. Diversity in the Workplace: A Legal Perspective
3. An Integrated Approach to Managing Diversity in Organizations
4. Exemplary Diversity Leaders and Organizations
Case Study: Diversity as Strategy, By David A. Thomas

II. MANAGING AND MISMANAGING: CASE STUDIES ON AMERICAN BUSINESSES
5. Gender
Case Study: Augusta National Golf Club: Membership for Women or Staying the Course? By Ray B. Swart, Ashish K. Singh, and Andrew Nelson under the supervision of James S. O'Rourke
Case Study: Mothers Work Inc.: Brand Image and Accusations of Employment Discrimination, By Carolyn E. Billick and Lusiena H. C. Wong under the supervision of James S. O'Rourke
6. Race and National Origin
Case Study: The Classic Look of Discrimination: Abercrombie & Fitch's Struggle to Manage Diversity, By Kathryn A. Cañas and Jacob K. Sorensen
Case Study Response: Abercrombie and Fitch's Story of Transformational Work, By Todd Corley
Case Study: Making the Cut or On the Ropes: A Play-by-Play Analysis of Diversity and Sports in the NFL, NASCAR, PGA, and NBA, By Kathryn A. Cañas, Jen Lair, and Jacob Bowman
Case Study: Texaco, Inc.: Racial Discrimination Suit (A), By Tanya Goria, DeWayne Reed, and Dan Skendzel under the supervision of James S. O'Rourke
Case Study: Texaco, Inc.: Racial Discrimination Suit (B), By Tanya Goria, DeWayne Reed, and Dan Skendzel under the supervision of James S. O'Rourke
Case Study: Denny's Restaurants: Creating a Diverse Corporate Culture (A), By M. Jennifer Abes, W. Brent Chism, and Thomas F. Sheeran under the supervision of James S. O'Rourke
Case Study: Denny's Restaurants: Creating a Diverse Corporate Culture (B), By M. Jennifer Abes, W. Brent Chism, and Thomas F. Sheeran under the supervision of James S. O'Rourke
7. Age
Case Study: AT&T, Age Discrimination, and the EEOC, by James Oliver
Case Study: Asleep at the Wheel: Ford Motor Company's Exclusion of the Older Worker, By Kathryn A. Cañas and Harris Sondak
8. Religion and Spirituality
Case Study: Purity of Spirit: Tom's of Maine, Adapted by Kathryn A. Cañas and Harris Sondak from a case written by Edmund R. Gray
9. Sexual Orientation and Gender Identity
Case Study: The Cracker Barrel Restaurants, By John Howard
Case Study: Nike and the LGBT Community: Diversity + Inclusion = A Successful Brand, By James Oliver
Case Study: When Steve Becomes Stephanie, By Loren Gary and Brian Elliot
10. Disabilities
Case Study: In the Eye of the Perfect Storm: Creating Accessibility–IBM, GM, and CISCO, By Kathryn A. Cañas and Harris Sondak
III. EXERCISES: DEVELOPING THREE ESSENTIAL SKILLS
11. Analyzing Self
12. Understanding Difference
13. Assessing Organizations