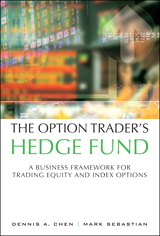 Description
In this book, a hedge fund manager and an option trading coach show you how to earn steady, reliable income selling options by managing your option trades and running your option portfolio as a real business with consistent, steady returns. Packed with real-world examples, the authors show you how to manage your own "one man" hedge fund and make consistent profits from selling options by applying the basic framework and fundamental business model and principles of an "insurance company". This framework helps you to apply your option trading strategy to a solid, predictable, business model with consistent returns. For someone who has some knowledge of trading options and wants to become a consistent income earner. The authors provide a complete "operations manual" for setting up your business. Gain pearls of wisdom from both a professional options trader and coach, and from a hedge fund manager focused on managing an options based portfolio.
Table of Contents
Introduction 1
Part I: The Framework
Chapter 1: The Insurance Business 5
Chapter 2: Trade Selection 19
Chapter 3: Risk Management 31
Chapter 4: Trade Execution 43
Chapter 5: The Trading Plan 55
Chapter 6: Trading Infrastructure 63
Chapter 7: Learning Processes 73
Part II: Implementing the Business
Chapter 8: Understanding Volatility 81
Chapter 9: Most Used Strategies 89
Chapter 10: Operating the Business: Putting Together TOMIC 1.0 from A to Z 121
Part III: Lessons from the Trading Floor
Chapter 11: Lessons from the Trading Floor on Volatility 131
Chapter 12: Lessons from the Trading Floor on Risk Management 145
Chapter 13: Lessons from the Trading Floor on Trading and Execution 155
Chapter 14: Lessons from the Trading Floor on the Other Greeks 173
Chapter 15: The Beginning 191
Appendix A: Recommended Reading 195
Appendix B: Strategy Learning Sequence 199
Appendix C: OptionPit.com 201
Appendix D: Kite Spread 203
Index 205
Purchase Info
ISBN-10: 0-13-282343-8
ISBN-13: 978-0-13-282343-2
Format: Safari PTG
This publication is not currently for sale.