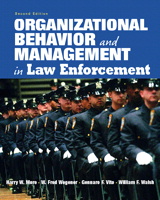 Description
This absolutely outstanding book overcomes the obstacles and impediments that beset so many others in the field of police management. Its clear, concise presentation and realistic and very thorough overview of contemporary law enforcement organizations and managerial issues make this a tightly written book that manages to cover all the relevant major topics in contemporary law enforcement management; its appealing and straightforward style will be appreciated by all users. KEY TOPICS: Organizational Behavior and Management in Law Enforcement includes chapters on personality, values, groups, power, decision-making, conflict, change, and organization development. Case studies put this book above all others in the field. MARKET: For professionals in law enforcement that hold these positions: Chief, Assistant Chief, Commander, Major, Captain, Lieutenant, Watch Commander, Sheriff, and Assistant Sheriff.
Table of Contents
(Note: Each chapter contains Learning Objectives, a Summary, Key Terms, Discussion Topics and Questions, For Further Reading, and Notes.)
1. Police Management: Evolving Strategies.
Historical Antecedents. Classical School. Early Police Administration Researchers. POSDCORB. Police Organizational Structure. Police Management in Transition. COMPSTAT.
2. Dynamics of Management: Managers and Organizational Behavior.
Management Defined. Managerial Levels. Managerial Skills. The New Emerging Police Management Role. Organizational Behavior.
3. Personality: Understanding the Complexity of Human Behavior in the Organization.
Personality Defined. Personality Theories. Dimensions of Personality. Machiavellianism. Bureaucratic Orientation.
4. Beliefs, Values & Attitudes: Determinants of Human Behavior.
Human Behavior. People-Oriented Management. Attitudes and Opinions. Perception, Motives, and Human Behavior. Management's Role in Changing Attitudes and Behavior.
5. Motivation: The Force Behind Behavior.
Pursuing Excellence. Organizations as Social Entities. Motivation and the Motivation Process. Approaches to Motivation Theory. Content Theories. Content Theory Revisited. Process Theories. Implications for Police Management.
6. Stress in Organizational Life: Its Nature, Causes, and Control.
Definitions of Stress. Stress Unique to Police Work. Stressors at Work. The Job. Symptoms of Stress. Stress Reduction.
7. Groups and the Group Process: Human Dynamics at Work.
The Group Phenomenon. Groups as Functional Units. Types of Groups. Anatomy of a Group. Group-Shared Norms and Values. Status in Groups. Group Culture. Group Dynamics. Human Relations and Management. Influences on Behavior. Accepting and Managing Work Groups.
8. Power: Its Nature and Use.
Definitions of Power. The Power Base. Power Sources. Utilizing Power. Subordinate Power.
9. Decision-Making: The Essential Element in Applied Management.
Problem-Solving and Decision-Making. Organizational Decision-Making. Influences on Decision-Making. Types of Organizational Decisions. Problem-Solving Through Rational Decision-Making. Limitations on Rational Decision-Making. Group Decision-Making. Improving Group Decision-Making.
10. Managerial Communication: The Vital Process.
Defining Managerial Communication. Managerial Functions. Managerial Communication. Realistic Communication Process. Formal Organizational Communication. Communicating in the Informal Organization. Improving Communication.
11. Leadership: The Integrative Variable.
Perspectives on Leadership. Police Administrators as Leaders. Theories of Leadership. Trait Theory. Leader Behavior Approach. The Managerial Grid.®
Situational Leadership Approach. Contingency Management. Path-Goal Leadership Model. Participatory Leadership. Transformational and Transactional Leadership Styles.
12. Change: Coping with Organizational Life.
Forces Influencing Organizational Change. Recognizing the Need for Planned Change. Targeting Change. The Process of Planned Change. Dynamics of Planned Organizational Change. Resistance to Change. Implementing Planned Change. Evaluation.
13. Conflict: Nature, Causes, and Management.
Interpersonal Conflict. Conflict in Formal Organizations. Reacting to and Managing Conflict. Managerial Styles and Conflict Management. The Problem Employee as a Source of Conflict.
14. Developing the Organization: Techniques for Improving Performance.
Definition. Organizational Development Objectives. Basic Values of Organizational Development. The Healthy Organization. Intervention Techniques. Successful Implementation of OD Programs.
15. Managerial Issues: Administrative Imperatives.
Labor and Management. Discrimination. Women. Use of Force.