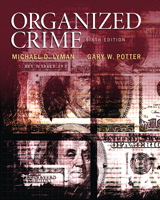 Description
For introductory courses in the field of criminal justice.
This student-friendly text illuminates organized crime from social, political, and economic perspectives, dispelling long-standing myths that prevent real understanding.
Organized Crime, 6e, is designed to be an introductory text serving several purposes in the field of criminal justice. First, it gives the reader an understanding of the concept of organized crime–what it is and what it is not–and the necessary historical foundation for understanding the evolution, development, and current status of organized crime. Most important, the book is designed to dispel the myth that organized crime is composed exclusively of Italian American criminal groups.
Another important component of the book is that drug trafficking plays an important role in the continuing proliferation of organized crime groups. The existence of the illegal drug trade says much about both the groups that traffic in illicit drugs and the members of society who use these drugs, consequently lending support to organized criminals.
Finally, terrorism has dominated public policy since September 11, 2001. With increasing global awareness of terrorist organizations and those who belong to them, traditional models of terrorism have been challenged because the structure, financing, and recruiting mechanisms of such organizations are becoming more and more like their criminal counterparts in conventional organized crime. Logically organized and highly readable, the text promotes learning with extensive pedagogical features, from critical thinking projects to suggested readings.
Teaching and Learning Experience
This book offers a current look at organized crime, examining emerging areas in the field. It provides:
Comprehensive, up-to-date coverage: Gives students the strong intellectual foundation they need to truly understand organized crime

A thorough examination of the role of drug trafficking in organized crime: Students learn the important role drug trafficking plays in the continuing proliferation of organized crime groups

Insights into terrorism as organized crime: Students are challenged to view traditional models of terrorism as a type of organized crime

Extensive pedagogical features: Gives students the tools to master key concepts faster and more effectively and provides support for instructors
Table of Contents
Preface

Chapter 1 Understanding Organized Crime
Chapter 2 Theories of Organized Criminal Behavior
Chapter 3 The Evolution of Organized Crime: Urban Beginnings
Chapter 4 The Evolution of Organized Crime: Southern Beginnings
Chapter 5 The Businesses of Organized Crime
Chapter 6 The Illicit Drug Trade
Chapter 7 Domestic Organized Crime Groups
Chapter 8 A Comparative Perspective
Chapter 9 Terrorism as Organized Crime
Chapter 10 Organized Crime's Political and Corporate Alliances
Chapter 11 Controlling Organized Crime
Appendix A Selected Provisions from the 2001 USA Patriot Act
Appendix B Chronology of White Supremacist Domestic Terrorist Incidents in the 1980s
Appendix C Domestic Terrorism Groups and Events
Appendix D Foreign Terrorist Organizations
References
Index
Purchase Info ?
With CourseSmart eTextbooks and eResources, you save up to 60% off the price of new print textbooks, and can switch between studying online or offline to suit your needs.
Once you have purchased your eTextbooks and added them to your CourseSmart bookshelf, you can access them anytime, anywhere.
Buy Access
Organized Crime, CourseSmart eTextbook, 6th Edition
Format: Safari Book
$55.99 | ISBN-13: 978-0-13-359903-9