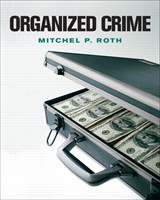 Description
For courses in Organized Crime and Corruption, Homeland Security, and Criminal Justice Intelligence.
Moving beyond outdated interpretations, this text addresses the rapidly changing world of organized crime. By looking at the forces of globalization, terrorism and hi-tech crime, it helps readers understand the complicated nature of organized crime today. Appropriate for a wide audience, its level is applicable for both undergraduate and graduate level students and its interdisciplinary approach relies on research from a variety of fields. Chapter introductions and critical thinking questions keep readers engaged as they are confronted with the realities of organized crime in a twenty-first century world.
Table of Contents
1. Defining and Recognizing OC
2. Explaining Criminal Subcultures and Actors
3. Italian Organized Crime: Old World Origins
4. The Mafia in America: Origins of an Alien Conspiracy
5. Historical Roots of OC in America
6. Vice Prohibition in America: Alcohol, Narcotics, Gambling, and Prostitution
7. Business of OC
8. Homegrown OD: OMGS, Prison Gangs, and Urban Street Gangs
9. Asian OC
10. OC in Russia and Europe
11. OC in Mexico and Latin America
12. Afrolineal OC
13. Terrorism and OC: An Evolving Relationship
14. Investigating and Responding to OC
15. Organized Crime in a Hi-Tech World
Purchase Info ?
With CourseSmart eTextbooks and eResources, you save up to 60% off the price of new print textbooks, and can switch between studying online or offline to suit your needs.
Once you have purchased your eTextbooks and added them to your CourseSmart bookshelf, you can access them anytime, anywhere.
Buy Access
Organized Crime, CourseSmart eTextbook
Format: Safari Book
$50.99 | ISBN-13: 978-0-13-505921-0