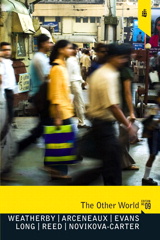 Description
The Other World combines a thematic and area studies approach to explore contemporary global issues in the developing world. Accessible and interdisciplinary, this text offers political, economic, social, and historical analysis plus case studies on Latin America, Sub-Saharan Africa, North Africa and the Middle East, Central Asia and the Southern Near Abroad, and Asia. Highlighting similarities and differences among these regions and focusing on enduring problems, The Other World is a practical look at the issues affecting the majority of the world's population.
"This text provides students a much more sophisticated understanding of modernity, tradition, and development. It enables them to understand that the issues 'out there' are intricately linked with the issues 'here' and thus facilitates more informed global thinking and action."–Kelechi Kalu, The Ohio State University
Table of Contents
PART I. GLOBAL ISSUES IN THE OTHER WORLD
Chapter 1. The Other World
Chapter 2. The Old and the New: Colonialism, Neocolonialism and Nationalism, and "The War on Terror"
Chapter 3. Political Economy
Chapter 4. Women and Development
PART II. OTHER WORLD REGIONS
Chapter 5. Latin America
Chapter 6. Sub-Saharan Africa
Chapter 7. Asia
Chapter 8. The Middle East and North Africa
Chapter 9. Central Asia and the Southern Near Abroad
Purchase Info ?
With CourseSmart eTextbooks and eResources, you save up to 60% off the price of new print textbooks, and can switch between studying online or offline to suit your needs.
Once you have purchased your eTextbooks and added them to your CourseSmart bookshelf, you can access them anytime, anywhere.
Buy Access
Other World, The, CourseSmart eTextbook, 9th Edition
Format: Safari Book
$48.99 | ISBN-13: 978-0-205-77888-1