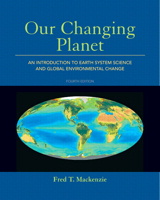 Description
This book offers a general discussion of global environmental change geared toward readers like you. It presents both Earth science and ecological concepts related to global change, as well as a discussion of the human dimensions of change. The text's unifying theme is consideration of aspects of both natural and human-induced global environmental change.
Table of Contents
1. Introduction: The Changing Planetary System
2. Earth's Lithosphere: Geologic Time and Building Blocks
3. Earth's Lithosphere: Plate Tectonics
4. The Fluid Earth: Atmosphere
5. The Fluid Earth: Hydrosphere and Air-Sea Interactions
6. Our Living Planet: Earth's Ecosphere
7. Biogeochemical Cycles of Carbon, Nutrients, and Oxygen
8. Historical Framework of Global Environmental Change
9. Human Forcings on the Ecosphere: World Population, Development and Resource Consumption
10. The Changing Earth Surface: Terrestrial Vegetation
11. The Changing Earth Surface: Land and Water
12. The Changing Atmosphere: Acid Deposition and Photochemical Smog
13. The Changing Atmosphere: Pleistocene and Holocene Environmental Change
14. The Changing Atmosphere: Global Warming and Stratospheric Ozone Depletion
15. Human Dimensions of Global Environmental Change


This title is also sold in the various packages listed below. Before purchasing one of these packages, speak with your professor about which one will help you be successful in your course.
Package ISBN-13: 9780134687414
Includes this title packaged with:
Dire Predictions: Understanding Climate Change, 2nd Edition
Michael E. Mann, Lee R. Kump
$166.65 $158.32 | Add to Cart