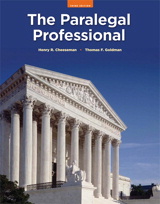 Description
For courses in Paralegal (Introduction), Legal Concepts for Paralegals, and Introduction to Law.
Written by an award-winning author team, The Paralegal Professional: Comprehensive Version, 3e provides a solid foundation in substantive and procedural legal knowledge and analytical skills. Using chapter opening vignettes, ethical perspectives, advice from the field, and chapter exercises, it develops real-world skills needed to be successful in a paralegal career. Substantive law chapters provide an overview of the most common individual legal areas of practice. New video case studies and Paralegals in Practice boxes bring the world of the paralegal closer to the classroom.
Table of Contents
Chapter 1 The Paralegal Profession
Chapter 2 Ethics and Professional Responsibility
Chapter 3 The Paralegal Workplace
Chapter 4 Technology and the Paralegal
Chapter 5 American Leal Heritage and Constitutional Law
Chapter 6 The Court System and Alternate Dispute Resolution
Chapter 7 Civil Litigation
Chapter 8 Criminal Procedure and Administrative Law
Chapter 9 Interviewing and Investigation Skills
Chapter 10 Traditional and Computerized Legal Research
Chapter 11 Legal Writing and Critical Legal Thinking
Chapter 12 Torts and Product Liability
Chapter 13 Contracts and E-Commerce
Chapter 14 Property Law
Chapter 15 Estate Planning and Elder Law
Chapter 16 Family Law
Chapter 17 Agency, Employment, and Immigration Law
Chapter 18 Business Organizations and Bankruptcy Law
Chapter 19 Common and Business Crimes
Chapter 20 Intellectual Property and Digital Law
Purchase Info ?
With CourseSmart eTextbooks and eResources, you save up to 60% off the price of new print textbooks, and can switch between studying online or offline to suit your needs.
Once you have purchased your eTextbooks and added them to your CourseSmart bookshelf, you can access them anytime, anywhere.
Buy Access
Paralegal Professional, The, CourseSmart eTextbook, 3rd Edition
Format: Safari Book
$81.99 | ISBN-13: 978-0-13-506638-6