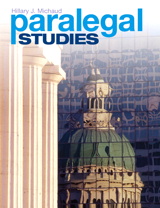 Description
For courses in Introduction to Paralegal Studies.
This cost-effective text is a complete introduction to paralegal studies covering the paralegal profession, the American legal system, legal ethics, legal specialty areas, and professional responsibility. Using an innovative text/video format, it captures the essence of the field through the eyes, words and experiences of practicing paralegals. Each chapter features text and video interviews with working professionals that not only introduce the field, but also show how-to do specific paralegal tasks. Each chapter includes pertinent information on statutes, case law and ethical rules and ends with extensive chapter assignments that reinforce content and teach paralegal skills.
Table of Contents
Part I: The Paralegal Profession
1. The Definition and Role of a Paralegal
2. Paralegal Careers and Career Preparation
Part II: An Introduction to The American Legal System
3. Sources of American Law and the Civil and Criminal Law System
4. The Court Systems, Litigation and Alternative Dispute Resolution
Part III: Legal Ethics and Professional Responsibility for Paralegals
5. The Regulation of Paralegals and an Introduction to Legal Ethics
6. The "Big Three" Legal Ethics Areas
7. Other Legal Ethics Rules for Paralegals
Part IV: Paralegal Skills
8. Skills for Workplace Success
9. Conducting Legal Research and Briefing Court Cases
10. Legal Writing
11. Interviewing, Investigating, and Negotiation
Part V: Legal Specialty Areas for Paralegals
12. Business-Related Legal Specialty Areas
13. Other Legal Specialty Areas
Purchase Info ?
With CourseSmart eTextbooks and eResources, you save up to 60% off the price of new print textbooks, and can switch between studying online or offline to suit your needs.
Once you have purchased your eTextbooks and added them to your CourseSmart bookshelf, you can access them anytime, anywhere.
Buy Access
Paralegal Studies, CourseSmart eTextbook
Format: Safari Book
$43.99 | ISBN-13: 978-0-13-511476-6