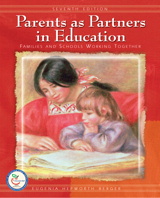 Table of Contents
Chapter 1 Family Involvement—Essential for a Child's Development.

Chapter 2 Families and Communities: Overview, Trends, and Insights

Chapter 3 Working with Culturally Diverse Groups

Chapter 4 Historical Overview of Family Life, Diverse Famlies, and Parent Involvement.

Chapter 5 Effective Home-School-Community Relationships

Chapter 6 Communication and Parent Programs.

Chapter 7 Collaborative Leadership—Working with Parents.

Chapter 8 School-Based Programs.

Chapter 9 Home-Based Programs.

Chapter 10 Working with Parents of a Child with Disabilities.

Chapter 11 The Abused Child.

Chapter 12 Rights, Responsibilities, and Advocacy.

Bibliography.

Index.