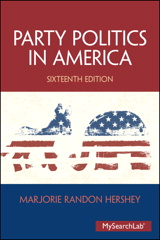 Description
Shows the realities of modern parties' organizations, funding, and polarization on issues
Party Politics in America opens the door to a new understanding of political parties and American politics. Building upon the work of Frank Sorauf and Paul Allen Beck, Marjorie Hershey has maintained the book's three-pronged coverage of party organization, party in the electorate, and party in government while also introducing contemporary and historical examples to bring to life the fascinating story of how parties shape our political system.
Table of Contents
Part One: Parties and Party Systems
Chapter 1. What Are Political Parties?
Chapter 2. The American Two-Party System
Part Two: The Political Party as an Organization
Chapter 3. The State and Local Party Organizations
Chapter 4. The Parties' National Organizations
Chapter 5. Party Activists
Part Three: The Political Party in the Electorate
Chapter 6. Party Identification
Chapter 7. Party Coalitions and Party Change
Chapter 8. Parties and Voter Turnout
Part Four: Parties, Nominations, and Elections
Chapter 9. How Parties Choose Candidates
Chapter 10. Choosing the Presidential Nominees
Chapter 11. The General Election
Chapter 12. Financing the Campaigns
Part Five: The Party in Government
Chapter 13. Parties in Congress and State Legislatures
Chapter 14. The Party in the Executive and the Courts
Chapter 15. The Semi-Responsible Parties
Chapter 16. The Place of Parties in American Politics
Purchase Info
ISBN-10: 0-205-99209-9
ISBN-13: 978-0-205-99209-6
Format: Book
This publication is not currently for sale.