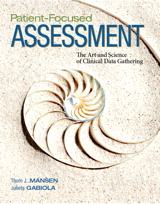 Refund Policy: Information about our product refund policy is available on the Customer Care page.
This is a subscription-based eBook that will be available to you on VitalSource.com for the duration of your course. This eBook may not include any media, website access codes, or print supplements that may come packaged with the bound book.
Description
For courses in physical assessment/examination in all health care programs, including nursing, medicine, physicians assistants, physical therapy, and pharmacy.
Patient-Focused Assessment: The Art and Science of Clinical Data Gathering, First Edition, is an interdisciplinary text that will appeal to students and providers in all health care professions. Since patient assessment is critical to all providers of patient care, the text focuses on the patient, rather than a specific health care discipline. Patient assessment is divided into 4 levels based on the provider's competency, the quantity of content (discipline-specific knowledge), the complexity of the assessment techniques and procedures, and the condition of the patient. The text focuses on adult patients but also addresses pediatric, geriatric, pregnant, and hospitalized patients. An excellent resource for students in health care, the text is also an invaluable reference for practicing health care providers.
Teaching and Learning Experience
This text presents a systematic, patient-centered approach to patient assessment. It provides:
An interdisciplinary approach: The text focuses on the patient rather than a specific health care discipline, making it a valuable resource across all health care professions.
Clear structure and organization: Logical organization and consistent chapter structure makes the text accessible, readable, and easy to navigate.
Clinical examples and case studies: Realistic examples and scenarios stimulate critical thinking and expose readers to real professional situations.
Effective learning resources: Proven pedagogical features help readers get the most out of the text with helpful hints, professional insight, and review tools.
Table of Contents
Unit I
Chapter 1 The Foundation and Context of Assessment
Chapter 2 The Individual in Context
Chapter 3 The Provider in Context
Chapter 4 The Context of Interviewing
Unit II
Chapter 5 Health History
Chapter 6 Clinical Skills of Assessment for Physical Examination
Chapter 7 General Assessment and the Mental Status Exam
Chapter 8 Vital Signs
Chapter 9 Documentation
Unit III
Chapter 10 Infants, Children, and Adolescents
Chapter 11 The Pregnant Woman
Chapter 12 Assessment of Older Adults
Chapter 13 Nutrition Assessment
Chapter 14 High-Risk Assessments
Unit IV
Chapter 15 The Complete Physical Exam
Chapter 16 Skin
Chapter 17 Head and Neck
Chapter 18 The Eye
Chapter 19 The Ear
Chapter 20 Nose, Mouth, Sinuses and Throat
Chapter 21 Lymph Glands
Chapter 22 Breast and Axilla
Chapter 23 Lungs
Chapter 24 Heart
Chapter 25 Blood Vessels
Chapter 26 The Brain and Nerves
Chapter 27 Bones and Muscle
Chapter 28 The Abdomen
Chapter 29 Male Genitalia
Chapter 30 Female Genitalia
Purchase Info ?
With VitalSource eTextbooks, you save up to 60% off the price of new print textbooks, and can switch between studying online or offline to suit your needs.
Access your course materials on iPad, Android and Kindle devices with VitalSource Bookshelf, the textbook e-reader that helps you read, study and learn brilliantly. Features include:
See all of your eTextbooks at a glance and access them instantly anywhere, anytime from your Bookshelf - no backpack required.
Multiple ways to move between pages and sections including linked Table of Contents and Search make navigating eTextbooks a snap.
Highlight text with one click in your choice of colors. Add notes to highlighted passages. Even subscribe to your classmates' and instructors' highlights and notes to view in your book.
Scale images and text to any size with multi-level zoom without losing page clarity. Customize your page display and reading experience to create a personal learning experience that best suits you.
Print only the pages you need within limits set by publisher
Supports course materials that include rich media and interactivity like videos and quizzes
Easily copy/paste text passages for homework and papers
Supports assistive technologies for accessibility by vision and hearing impaired users
ISBN-10: 0-13-382936-7
ISBN-13: 978-0-13-382936-5
Format: eTextbook
This publication is not currently for sale.