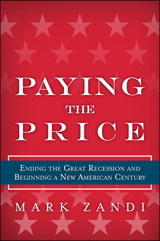 Description
Only a few years ago, the U.S. financial system and economy were near collapse. Global financial institutions teetered and fell, while at once-mighty U.S. companies, panicked CEOs slashed jobs. The financial chaos inflicted catastrophic damage: double-digit unemployment; crashing house and stock prices; federal budget deficits in the trillions, and a wider gap between the country's haves and have-nots. Today many Americans still feel shell-shocked. But while there remains much to be nervous and frustrated about, it is impressive how much progress has been made in righting the wrongs that got us into this mess. The economy is growing and steadily creating jobs; house prices are stable and stock prices are up; debt burdens have eased for most households and the financial system has shored up its foundations to an impressive degree. American companies are as competitive globally as they have been in a half century. This dramatic turn in the economy's fortunes occurred because of what government did to stem the financial panic and combat the effects of Great Recession. Policymakers' unprecedented actions – from Congress' auto and bank bailouts and fiscal stimulus, to the Federal Reserve's zero interest rates and quantitative easing – remain intensely controversial, but ultimately they will be judged a success. Serious problems remain, including the government's mounting debt load and a burgeoning number of disenfranchised workers, but we are on our way to addressing them. Our economic future has arguably never been brighter.
Table of Contents
Introduction xiii
Chapter 1: Financial Shock to Financial Panic 1
Chapter 2: Bank Bailout 23
Chapter 3: Outside the Monetary Box 47
Chapter 4: As GM Goes, So Goes the Economy 71
Chapter 5: Stimulus Is Not a Dirty Word 91
Chapter 6: The Foreclosure Fiasco 119
Chapter 7: Fixing the Financial Plumbing 145
Chapter 8: The Fallout 171
Chapter 9: Getting Our Groove Back 197
Chapter 10: Don't Bet Against the United States 219
Index 243
Purchase Info
ISBN-10: 0-13-261557-6
ISBN-13: 978-0-13-261557-0
Format: eBook (Watermarked)?
This eBook includes the following formats, accessible from your Account page after purchase:
EPUBThe open industry format known for its reflowable content and usability on supported mobile devices.
MOBIThe eBook format compatible with the Amazon Kindle and Amazon Kindle applications.
PDFThe popular standard, used most often with the free Adobe® Reader® software.
This eBook requires no passwords or activation to read. We customize your eBook by discreetly watermarking it with your name, making it uniquely yours.
Includes EPUB, MOBI, and PDF
$29.99
Add to Cart