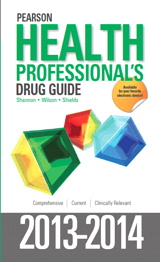 Description
Pearson Health Professional's Drug Guide 2013–2014 is a current and reliable reference designed to provide comprehensive information needed to make appropriate decisions regarding drug administration.
This is the drug guide preferred by physician assistants, physical therapists, occupational therapists - and all health care professionals who need accurate, easily accessed information about their patients' medications. Comprehensive, yet user-friendly, this handy resource includes important clinical implications for hundreds of drugs, including adverse reactions, interactions and side effects. Includes new approved drugs as approved by the FDA and other numerous updates.
Table of Contents
Classification Scheme and Prototype Drugs
Alphabetical Entries for Generic Drugs
Appendix A. Ocular Medications, Low Molecular Weight Heparins, Inhaled Corticosteroids, and Topical Corticosteroids
Appendix B. U.S. Schedules of Controlled Substances
Appendix C. FDA Pregnancy Categories
Appendix D. Oral Dosage Forms That Should Not Be Crushed
Appendix E. Prescription Combination Drugs
Appendix F. Glossary of Key Terms, Clinical Conditions, and Associated Signs and Symptoms
Appendix G. Abbreviations
Appendix H. Herbal and Dietary Supplement Table
Bibliography
Index
Common Drug IV-Site Compatibility Chart
Purchase Info ?
With CourseSmart eTextbooks and eResources, you save up to 60% off the price of new print textbooks, and can switch between studying online or offline to suit your needs.
Once you have purchased your eTextbooks and added them to your CourseSmart bookshelf, you can access them anytime, anywhere.
Buy Access
Pearson Health Professional's Drug Guide 2013-2014, CourseSmart eTextbook
Format: Safari Book
$21.99 | ISBN-13: 978-0-13-335550-5