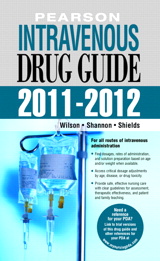 Description
For courses in Fundamentals of Nursing, Medical Surgical Nursing, and Pharmacology.
Pearson Intravenous Drug Guide 2011—2012 provides current, reliable I.V. drug information in an easily accessible format. This comprehensive guide details all intravenous medications with preparation and administration so complete no other IV resource is necessary. All drugs are listed alphabetically by generic names for quick reference, with an index that includes both generic and trade names. It covers important nursing information, such as adverse reactions, interactions, and side effects, making this an essential quick-reference guide for anyone in the nursing field or studying to enter into it.
Table of Contents
Editorial Review Panel
Preface
Classification Scheme and Prototype Drugs
Alphabetical Entries for Generic Intravenous Drugs
Appendix A. U.S. Schedules of Controlled Substances
Appendix B. FDA Pregnancy Categories
Appendix C. Glossary of Key Terms, Clinical Conditions, and Associated Signs and Symptoms
Appendix D. Abbreviations
Appendix E. Recommendations for the Safe Handling of Cytotoxic Drugs
Appendix F. Toxicity Grades Associated with Chemotherapy
Bibliography
Index
Common Drug IV-Site Compatibility Chart
Purchase Info ?
With CourseSmart eTextbooks and eResources, you save up to 60% off the price of new print textbooks, and can switch between studying online or offline to suit your needs.
Once you have purchased your eTextbooks and added them to your CourseSmart bookshelf, you can access them anytime, anywhere.
Buy Access
Pearson Intravenous Drug Guide 2011-2012, Coursesmart eTextbook, 2nd Edition
Format: Safari Book
$24.99 | ISBN-13: 978-0-13-255782-5