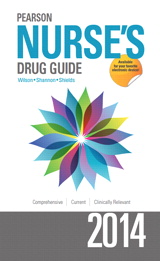 Description
With over 350 updates, the new 2014 edition of the Pearson Nurse's Drug Guide provides safe, effective, current, and accurate drug information in a quickly accessible format. Comprehensive and complete, it lists all drugs alphabetically by generic names for quick reference, with an index listing both generic and trade names. It presents important clinical information for hundreds of drugs, with adverse reactions, interactions, side effects, and impacts on lab results. It clearly presents information on IV preparation and push, continuous, or intermittent administration; as well as dosages for neonates, infants, adolescents, adults, and patients with obesity and renal or hepatic impairment. This edition also contains 21 brand-new monographs for drugs recently approved by the FDA.
Table of Contents
Cl>
Alphabetical Entries for Generic Drugs
Appendix A. Ocular Medications, Low Molecular Weight Heparins, Inhaled Corticosteroids, and Topical Corticosteroid
Appendix B. U.S. Schedules of Controlled Substances
Appendix C. FDA Pregnancy Categories
Appendix D. Oral Dosage Forms That Should Not Be Crushed
Appendix E. Prescription Combination Drugs
Appendix F. Glossary of Key Terms, Clinical Conditions, and Associated Signs and Symptoms
Appendix G. Abbreviations
Appendix H. Herbal and Dietary Supplement Table
Appendix I. Look-Alike, Sound-Alike Medications
Bibliography
Index
Common Drug IV-Site Compatibility Chart
This title is also sold in the various packages listed below. Before purchasing one of these packages, speak with your professor about which one will help you be successful in your course.
Purchase Info
ISBN-10: 0-13-335552-7
ISBN-13: 978-0-13-335552-9
Format: Book
Digital Choices ?
MyLab & Mastering with Pearson eText is a complete digital substitute for a print value pack at a lower price.
MyLab & Mastering ?
MyLab & Mastering products deliver customizable content and highly personalized study paths, responsive learning tools, and real-time evaluation and diagnostics. MyLab & Mastering products help move students toward the moment that matters most—the moment of true understanding and learning.
eTextbook ?
With CourseSmart eTextbooks and eResources, you save up to 60% off the price of new print textbooks, and can switch between studying online or offline to suit your needs.
Once you have purchased your eTextbooks and added them to your CourseSmart bookshelf, you can access them anytime, anywhere.