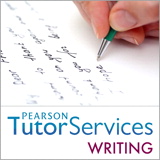 Description
Highly qualified online tutors will carefully review the submissions (i.e., essay, document, or report), and provide students with personalized and detailed feedback with advice on how to improve the writing. Documents are typically returned within 24 to 48 hours. Tutors are available to help with common areas of concern in student writing, such as:
Content Development
Main Idea/Thesis
Introduction/Conclusion
Organization
Use of Resources
Transitions
Word Choice
Sentence Structure
Grammar/Mechanics
Purchase Info ?
Pearson Tutor Services has highly-qualified tutors to help students resolve their writing, math and IT homework and projects.
Once you purchase a Tutor Services product, an access code will be added to your myPearsonStore account page. Go to pearsontutor.com to register with the site, enter your code and access your tutoring time.
For account support issues, please contact Pearson Customer Support at pearsonstorecs@pearsoned.com.
ISBN-10: 0-321-83891-2
ISBN-13: 978-0-321-83891-9
Format: Tutor Services
This publication is not currently for sale.