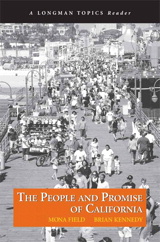 Description
The People and Promise of California uses an exciting collection of readings focusing on the unique, diverse, and cutting edge culture of California to help students understand the strategies and skills of good writing.
Table of Contents
CHAPTER 1 The Lure and Letdown of California
Kevin Starr, A Nation-State
Lewis Lapham, The Way West
Henry George, What the Railroads Will Bring Us
Douglas Fischer, You See Gridlock, I See Heaven
Chris Moran, Graduation Marks Triumph for Homeless Woman
DJ Waldie, My Place in California
Robert Lees, Statement to the House Un-American Activities Committee (April 1951)
Michael Mills, Blacklist: A Different Look at the 1947 HUAC Hearings
Joel Kotkin and William Frey, The Third California
CHAPTER 2 Arrivals, Departures, and Culture Clashes
Carey McWilliams, Population Whirligig
David Rieff, Excerpt from Los Angeles, Capital of the Third World
Mike Davis, The Third Border
Machiko Yasuda, Being Japanese Is Pretty Cool After All
Alizah Salario, Kids and Gangs: Seeking Solutions
Donna Mungen, The Anti-Heros: The LA4
lê thi diem thúy, From The Gangster We Are All Looking For
Ishmael Reed, My Oakland: There Is A There There
CHAPTER 3 Getting Our Fair Share
Tim Hodson, History, Myth, and Political Instability in California
Peter Schrag, California, Here We Come
Kenneth C. Burt, Battles for Fairness: California's Unions Fight Discrimination
Heather Barbour, Super-Sized Legislators: Should California Downsize its Districts?
John and Judith Glass, Unprotected Californians: Health Care as the New Civil Rights Issue
Linda Darling-Hammond, Lesson One: Training Counts
William E. Piland, College in California: Options Reduced?
CHAPTER 4 Safety, Security, and Sustainability
Joan Didion, The Promise of the Prison
Wade Graham, A Hundred Rivers Run Through It
Marc Cooper, Sour Grapes: California Farm Workers' Endless Struggle 40 Years Later
Heng L. Foong, Mind Your Language
Randall Lewis, The 2% Strategy: A Bold New Approach to Shape the Future of Southern California
Greg Goldin, The Paradox of the Hedge–Do Good Fences Really Make Good Neighbors?
Chris Thompson, A Shadow Falls Over the Square
CHAPTER 5 From the Center to the Edges
Gerald W. Haslam, Other Californians
Matt Warshaw, Surfacing
Clara Jeffrey, "Slab City," from "Go West, Old Man"
Stanley Poss, Spaced Out West
Christina Binkley, Morongo Tribe's New Casino Aims to Be a Hipster Magnet
Additional Course Materials