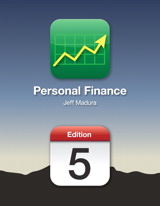 Description
Directed primarily toward undergraduate finance majors, this text also provides practical content to current and aspiring industry professionals, or anyone interested in learning how to manage their personal finances.
Personal Finance
takes a hands-on approach to building a financial plan. The text's seven parts each cover one section of a financial plan; Chapter 21 is the capstone. A running example throughout the book and a variety of end-of-chapter cases reinforce the practical aspects of planning.
Table of Contents
Preface
Financial Literacy Pre-Test
1. Overview of a Financial Plan
PART I. TOOLS FOR FINANCIAL PLANNING
2. Planning with Personal Financial Statements
3. Applying Time Value Concepts
4. Using Tax Concepts for Planning
PART II. MANAGING YOUR LIQUIDITY
5. Banking and Interest Rates
6. Managing Your Money
7. Assessing and Securing Your Credit
8. Managing Your Credit
PART III. PERSONAL FINANCING
9. Personal Loans
10. Purchasing and Financing a Home
PART IV. PROTECTING YOUR WEALTH
11. Auto and Homeowner's Insurance
12. Health and Disability Insurance
13. Life Insurance
PART V. PERSONAL INVESTING
14. Investing Fundamentals
15. Investing in Stocks
16. Investing in Bonds
17. Investing in Mutual Funds
18. Asset Allocation
PART VI. RETIREMENT AND ESTATE PLANNING
19. Retirement Planning
20. Estate Planning
PART VII. SYNTHESIS OF FINANCIAL PLANNING
21. Integrating the Components of a Financial Plan
Financial Literacy Post-Test
Appendix A. Your Career
Appendix B. Projects
Appendix C. Financial Tables
Purchase Info
Digital Choices ?
MyLab & Mastering with Pearson eText is a complete digital substitute for a print value pack at a lower price.
MyLab & Mastering ?
MyLab & Mastering products deliver customizable content and highly personalized study paths, responsive learning tools, and real-time evaluation and diagnostics. MyLab & Mastering products help move students toward the moment that matters most—the moment of true understanding and learning.
+ Other Options
eTextbook ?
With CourseSmart eTextbooks and eResources, you save up to 60% off the price of new print textbooks, and can switch between studying online or offline to suit your needs.
Once you have purchased your eTextbooks and added them to your CourseSmart bookshelf, you can access them anytime, anywhere.
Print Choices
Loose Leaf Version ?
Books a la Carte are less-expensive, loose-leaf versions of the same textbook.