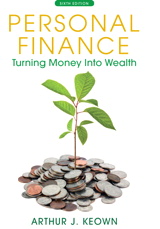 Description
Through the presentation of the Ten Fundamental Principles of Personal Finance, this text empowers students with the knowledge they need to successfully make and carry out a plan for their own financial future.
Table of Contents
Part 1: Financial Planning
Chapter 1: The Financial Planning Process
Chapter 2: Measuring Your Financial Health and Making a Plan
Chapter 3: Understanding and Appreciating the Time Value of Money
Chapter 4: Tax Planning and Strategies
Part 2: Managing Your Money
Chapter 5: Cash or Liquid Asset Management
Chapter 6: Using Credit Cards: The Role of Open Credit
Chapter 7: Using Consumer Loans: The Role of Planned Borrowing
Chapter 8: The Home and Automobile Decision
Part 3: Protecting Yourself with Insurance
Chapter 9: Life and Health Insurance
Chapter 10: Property and Liability Insurance
Part 4: Managing Your Investments
Chapter 11: Investment Basics
Chapter 12: Securities Markets
Chapter 13: Investing in Stocks
Chapter 14: Investing in Bonds and Other Alternatives
Chapter 15: Mutual Funds: An Easy Way to Diversify
Part 5: Life Cycle Issues
Chapter 16: Retirement Planning
Chapter 17: Estate Planning: Saving Your Heirs Money and Headaches
Purchase Info
ISBN-10: 0-13-271916-9
ISBN-13: 978-0-13-271916-2
Format: Alternate Binding
Digital Choices ?
MyLab & Mastering with Pearson eText is a complete digital substitute for a print value pack at a lower price.
MyLab & Mastering ?
MyLab & Mastering products deliver customizable content and highly personalized study paths, responsive learning tools, and real-time evaluation and diagnostics. MyLab & Mastering products help move students toward the moment that matters most—the moment of true understanding and learning.
+ Other Options