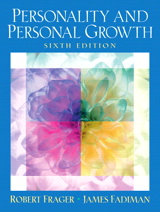 Description
For upper-level courses in Personality Theory and Personal Adjustment.
With a newly revised, streamlined organization and a Companion Website, the Sixth Edition maintains its cross-cultural, global, and gender-balanced perspectives while emphasizing the positive aspects of major personality theorists. This text encourages and supports students in using themselves as the primary touchstone for each theory. Each chapter gives students opportunities to validate their insights through direct experience, and, by observing their own reactions, come to their own conclusions about the utility and value of each theory.
Table of Contents


1. Sigmund Freud and Psychoanalysis.


2. Carl Gustav Jung and Analytical Psychology.


3. Karen Horney and Humanistic Psychoanalysis.


4. Alfred Adler and Individual Psychology.


5. Feminist Contributions to Personality Theory.


6. Erik Erikson and the Life Cycle.


7. William James and the Psychology of Consciousness.


8. B. F. Skinner and Radical Behaviorism.


9. Albert Bandura and Cognitive Psychology.


10. George Kelly and Personal Construct Psychology.


11. Carl Rogers and the Person-Centered Perspective.


12. Abraham Maslow and Transpersonal Psychology.


13. Yoga and the Hindu Tradition.


14. Zen and the Buddhist Tradition.


15. Sufism and the Islamic Tradition.

Purchase Info ?
With CourseSmart eTextbooks and eResources, you save up to 60% off the price of new print textbooks, and can switch between studying online or offline to suit your needs.
Once you have purchased your eTextbooks and added them to your CourseSmart bookshelf, you can access them anytime, anywhere.
Buy Access
Personality and Personal Growth, CourseSmart eTextbook, 6th Edition
Format: Safari Book
$72.99 | ISBN-13: 978-0-13-132890-7