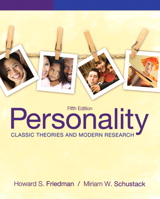 Description
This successful text puts "personality" back into the personality course, integrating the classic insights of the personality theorists with modern research in a manner that will fascinate and encourage deeper thought.
This text explores classic theory from a perspective that encourages critical thinking and fosters intellectual insight with respect to human nature. For example, it shows the relevance of classic theory to topics of personality and culture, evolution, ego, gender, and person-situation interactionism.
Employing the highest scientific standards, Personality also uses a wide range of unique and provocative pedagogical devices that have been shown to motivate students. Hailed as the best-written, most relevant personality textbook on the market, Friedman and Schustack's fourth edition brings the field of personality to today's diverse student body.
Table of Contents
Part I Introduction
Chapter 1 What Is Personality?
Chapter 2 How Is Personality Studied and Assessed?
Part II Eight Basic Aspects of Personality
Chapter 3 Psychoanalytic Aspects of Personality
Chapter 4 Neo-Analytic and Ego Aspects of Personality: Identity
Chapter 5 Biological Aspects of Personality
Chapter 6 Behaviorist and Learning Aspects of Personality
Chapter 7 Cognitive and Social-Cognitive Aspects of Personality
Chapter 8 Trait Aspects of Personality
Chapter 9 Humanistic, Existential, and Positive Aspects of Personality
Chapter 10 Person—Situation Interactionist Aspects of Personality
Part III Applications to Individual Differences
Chapter 11 Male—Female Differences
Chapter 12 Stress, Adjustment, and Health Differences
Chapter 13 Culture, Religion, and Ethnicity: Processes and Differences
Chapter 14 Love and Hate
Part IV Conclusion and Outlook for the Future
Chapter 15 Where Will We Find Personality?