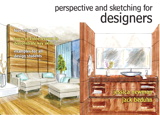 Description
For all first perspective drawing courses at the Freshman/Sophomore level for majors including Interior Design, Graphic Design, Game Art, Animation, and Industrial Design; and for all courses in Interior Design Perspective, Sketch, and/or Presentation. This book will also be useful in high school courses for students pursuing careers in the Applied Arts.
This book helps students learn how to draw quickly and believably by mastering practical techniques for perspective drawing and estimating scale and proportion. Drawing on extensive experience teaching beginners, the authors overcome many limitations of previous books. Rather than featuring professional work that beginners can't possibly duplicate, they show examples of student drawings, helping students gain confidence and gauge their progress. Avoiding unnecessary theory, math, and jargon, they help students develop an intuitive sense of scale and proportion for creating believable perspectives, and offer valuable tricks and shortcuts throughout. In place of lengthy narratives, they support each lesson with supporting video walking through key techniques. The authors also devote lessons to SketchUp (for blocking out perspectives) and Photoshop (for enhancing sketches).
Table of Contents
Introduction
Lesson 1- Perspective Basics
Lesson 2 - One-point Perspective
Lesson 3 - Two-point Perspective and Ellipses
Lesson 4 - Two-point Perspective Proportioning Methodologies
Lesson 5 - Proportioning a Two-point Perspective
Lesson 6 - Perceived Sale and Multiple Vanishing Points
Lesson 7 –Shadows and Reflections
Lesson 8 – People, Lighting and Colorizing
Lesson 9 – Three-point Perspective and Horizon Line Tricks
Lesson 10 – Chiaroscuro/value
Lesson 11 – Markers and color
Lesson 12 – Color pencils
Lesson 13 – Metallic surfaces
Lesson 14 – Wood
Purchase Info ?
With CourseSmart eTextbooks and eResources, you save up to 60% off the price of new print textbooks, and can switch between studying online or offline to suit your needs.
Once you have purchased your eTextbooks and added them to your CourseSmart bookshelf, you can access them anytime, anywhere.
Buy Access
Perspective and Sketching for Designers, Coursesmart eTextbook
Format: Safari Book
$35.99 | ISBN-13: 978-0-13-293580-7