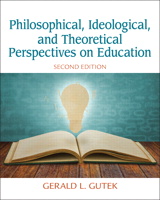 Description
Gerald Gutek's Philosophical, Ideological, and Theoretical Perspectives on Education uses a systems approach to help readers examine the major schools of philosophy of education; consider the relationship of education to major ideologies including Nationalism, Liberalism, Conservatism, and Marxism; and analyze the impact of philosophy and ideology on educational theory and practice through the theories of Essentialism, Perennialism, Social Reconstruction, and Critical Theory. The concepts are made clear through the book's helpful chapter organization, which includes definitions of terms; historical contributors and antecedents; a general discussion of the particular philosophy, ideology, or theory; and relationship and application to education, especially to schools, curriculum, instruction, and to teachers and students.
Table of Contents
PART 1 Philosophies and Education
Chapter 1 Philosophy and Education 2
Chapter 2 Idealism and Education 18
Chapter 3 Realism and Education 46
Chapter 4 Pragmatism and Education 74
Chapter 5 Existentialism and Education 104
Chapter 6 Postmodernism and Education 138
PART 2 Ideologies and Education
Chapter 7 Ideology and Education 166
Chapter 8 Nationalism, American Exceptionalism, Ethnonationalism, and Education 194
Chapter 9 Liberalism and Education 216
Chapter 10 Conservatism and Education 250
Chapter 11 Marxism and Education 272
PART 3 Theories and Education
Chapter 12 Theory and Education 298
Chapter 13 Essentialism and Education 310
Chapter 14 Perennialism and Education 340
Chapter 15 Progressivism and Education 362
Chapter 16 Social Reconstructionism and Education 388
Chapter 17 Critical Theory and Education 420
Purchase Info
Digital Choices
eTextbook ?
With CourseSmart eTextbooks and eResources, you save up to 60% off the price of new print textbooks, and can switch between studying online or offline to suit your needs.
Once you have purchased your eTextbooks and added them to your CourseSmart bookshelf, you can access them anytime, anywhere.