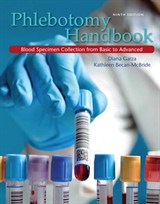 Description
For all phlebotomy courses in programs for Medical/Clinical Laboratory Scientists, Medical Laboratory Technicians, Phlebotomists, Medical Assistants, Nurse Assistants, and Physician Assistants; and other health profession educational programs.
The complete phlebotomy guide that's ideal for both the classroom and in-practice pre-analytic reference -- now updated with new safety procedures, equipment, standards, CLSI standards, and NAACLS competencies.
Phlebotomy Handbook, Ninth Edition links health care students and providers to the latest information, procedures, skills, standards, and equipment for safe, effective blood collection. Its contents have been selected and organized to improve diagnostic and therapeutic laboratory testing through better pre-exam blood collection knowledge, and by teaching skills that lead to better patient outcomes. Starting simple, it builds to increasingly complex competencies, covering all the crucial communication, clinical, technical, and safety skills that health care practitioners need. This edition fully reflects the latest guidelines from the Clinical and Laboratory Standards Institute (CLSI) and the National Accrediting Agency for Clinical Laboratory Sciences (NAACLS), with references to international standards as appropriate. It also reflects an even stronger focus on patient and healthcare provider safety. Also available: access to Pearson's state-of-the-art MyHealthProfessionsLab, and a complete eText version of the book.
Teaching and Learning Experience
This book will help health professionals and students quickly master today's best standards are practices in blood and specimen collection:
Updated standards, procedure, techniques, and safety precautions throughout: Thoroughly reflects the latest CLSI and NAACLS standards, and the latest research, techniques, and innovations in phlebotomy and specimen collection.
Deep focus on safety for both the patient and the healthcare provider: Contains multiple features designed to promote safer blood and specimen collection
Comprehensive pedagogical features, including many full-color photos and features: Promotes more rapid and intuitive learning for students with a wide spectrum of backgrounds and knowledge
Table of Contents
PART I. OVERVIEW AND SAFETY PROCEDURES
1. Phlebotomy Practice and Quality Assessment
2. Communication, Computerization, and Documentation
3. Professional Ethics, Legal, and Regulatory Issues
4. Infection Control
5. Safety and First Aid
6. Medical Terminology, Anatomy and Physiology of Organ Systems
7. The Cardiovascular and Lymphatic Systems
PART II. PHLEBOTOMY EQUIPMENT AND PROCEDURES
8. Blood Collection Equipment
9. Preexamination/Preanalytical Complications Causing Medical Errors in Blood Collection
10. Venipuncture Procedures
11. Capillary Blood Specimens
12. Specimen Handling, Transportation, and Processing
PART III. POINT-OF-CARE TESTING AND SPECIAL PROCEDURES
13. Pediatric and Geriatric Procedures
14. Point-of-Care Collections
15. Arterial, Intravenous (IV), and Special Collection Procedures
16. Urinalysis, Body Fluids, and Other Specimens
17. Drug Use, Forensic Toxicology, Workplace Testing, Sports Medicine, and Related Areas
Appendix 1. NAACLS Phlebotomy Competencies and Matrix
Appendix 2. Finding a Job
Appendix 3. International Organizations
Appendix 4. The Basics of Vital Signs
Appendix 5. Centers for Disease Control and Prevention (CDC) Guideline for Hand Hygiene in Health Care Settings
Appendix 6. Common Laboratory Assays, Tube Requirements, and Reference Intervals
Appendix 7. Guide for Maximum Amounts of Blood to Be Drawn from Patients Younger Than Age 14
Appendix 8. Basic Labeling and Packaging Requirements for Transporting Infectious Substances
Appendix 9. Standard Operating Procedures (SOPS) for Donor Phlebotomy
Appendix 10. Units of Measurement and Symbols
Appendix 11. Formulas, Calculations, and Metric Conversion
Appendix 12. Military Time (24-Hour Clock)
Appendix 13. Basic Spanish for Specimen Collection Procedures
Appendix 14. Competency Assessment Tracking Sheet
Appendix 15. Answers to Study Questions, Case Studies, and Competency Checklists
Glossary
Index
This title is also sold in the various packages listed below. Before purchasing one of these packages, speak with your professor about which one will help you be successful in your course.
Package ISBN-13: 9780134110288
Includes this title packaged with:
Success! in Phlebotomy, 7th Edition
Kathleen Becan-McBride, Diana Garza
$175.20 | Add to Cart
Package ISBN-13: 9780134217185
Includes this title packaged with:
Success! in Phlebotomy, 7th Edition
Kathleen Becan-McBride, Diana Garza
NEW MyHealthProfessionsLab with Pearson eText -- Access Card -- for Phlebotomy Handbook, 9th Edition
Diana Garza, Kathleen Becan-McBride
NEW MyHealthProfessionsLab without Pearson eText -- Access Card -- for Phlebotomy Handbook, 9th Edition
Diana Garza, Kathleen Becan-McBride
$212.27 | Add to Cart
Purchase Info
Digital Choices ?
MyLab & Mastering with Pearson eText is a complete digital substitute for a print value pack at a lower price.
MyLab & Mastering ?
MyLab & Mastering products deliver customizable content and highly personalized study paths, responsive learning tools, and real-time evaluation and diagnostics. MyLab & Mastering products help move students toward the moment that matters most—the moment of true understanding and learning.
+ Other Options
eTextbook ?
With VitalSource eTextbooks, you save up to 60% off the price of new print textbooks, and can switch between studying online or offline to suit your needs.
Access your course materials on iPad, Android and Kindle devices with VitalSource Bookshelf, the textbook e-reader that helps you read, study and learn brilliantly. Features include:
See all of your eTextbooks at a glance and access them instantly anywhere, anytime from your Bookshelf - no backpack required.
Multiple ways to move between pages and sections including linked Table of Contents and Search make navigating eTextbooks a snap.
Highlight text with one click in your choice of colors. Add notes to highlighted passages. Even subscribe to your classmates' and instructors' highlights and notes to view in your book.
Scale images and text to any size with multi-level zoom without losing page clarity. Customize your page display and reading experience to create a personal learning experience that best suits you.
Print only the pages you need within limits set by publisher
Supports course materials that include rich media and interactivity like videos and quizzes
Easily copy/paste text passages for homework and papers
Supports assistive technologies for accessibility by vision and hearing impaired users