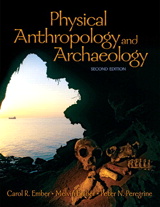 Description
This comprehensive and scientific introduction to physical anthropology and archaeology is the only book to give balanced treatment to both biological and cultural evolution and the interaction between them to help students understand what humans are and were like and why they got to be that way.
Table of Contents
Table of Contents
Part I: Introduction
1. What is Anthropology?
2. How We Discover the Past
3. How We Study the Human Body
4. Genetics and Evolution
5. Human Variation and Adaptation
Part II: Human Evolution: Biological and Cultural
6. The Living Primates
7. Primate Evolution: From Early Primates to Hominoids
8. The First Hominids
9. The Origins of Culture and Language
10. The Emergence of Homo
Part III: Modern Humans
11. The Emergence of Homo sapiens
12. The Upper Paleolithic World
13. Origins of Food Production and Settled Life
14. Origins of Cities and States
Part IV: Using Anthropology
15. Cultural Resource Management and Forensic Anthropology
16. Medical Anthropology
Purchase Info ?
With CourseSmart eTextbooks and eResources, you save up to 60% off the price of new print textbooks, and can switch between studying online or offline to suit your needs.
Once you have purchased your eTextbooks and added them to your CourseSmart bookshelf, you can access them anytime, anywhere.
Buy Access
Physical Anthropology and Archaeology, CourseSmart eTextbook, 2nd Edition
Format: Safari Book
$68.99 | ISBN-13: 978-0-13-227670-2