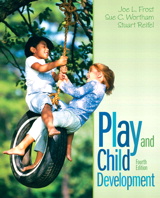 Description
A textbook for undergraduate and graduate courses in Play; also appropriate as a supplement for Child Development and Early Childhood Education courses.
With significantly expanded discussions on key topics, this text ties play directly to child development. Addressing the full spectrum of play-related topics, including age-group chapters, its coverage is quite comprehensive and blends research, theory, and practical applications.
Play and Child Development, Fourth Edition, is arranged to guide students through topics leading to a comprehensive understanding of play intended to help prepare them for guiding children's play in a number of contexts: preschools, elementary schools, park systems, and research programs. The text is developmentally-based, providing basic information about historical, theoretical, and practical approaches to promoting development through integrated play and learning approaches across various age or developmental levels. The book analyzes play theories and play therapy; presents a history of play; and discusses current play trends. It explores ways to create safe play environments for all children, and how to weave play into school curricula. Finally, the authors examine the role of adults in leading and encouraging children's natural tendencies toward learning by playing. Special coverage includes a full chapter on play and children with disabilities, and the value of field trips in supporting learning.
This edition offers expanded and/or updated coverage on evidence based play theory, child development, play environments, and early play-based curricula for children of all abilities in various learning contexts.
Table of Contents
Chapter 1 Play History: Ideas, Beliefs, and Activities
Chapter 2 Theory as Lenses on Children's Play
Chapter 3 Neuroscience and Play Deprivation
Chapter 4 Play: Infants and Toddlers
Chapter 5 Play in the Preschool Years
Chapter 6 Play and the School-Age Child
Chapter 7 Culture and Gender in Play
Chapter 8 Play and the Curriculum
Chapter 9 Creating Play Environments
Chapter 10 Play and Children with Disabilities
Chapter 11 Computers and Techology as Emerging Toys
Chapter 12 Introduction to Play Therapy
Chapter 13 Child Safety in Public Places: Indoors and Outdoors
Chapter 14 Playwork in American and European Playgrounds
Purchase Info ?
With CourseSmart eTextbooks and eResources, you save up to 60% off the price of new print textbooks, and can switch between studying online or offline to suit your needs.
Once you have purchased your eTextbooks and added them to your CourseSmart bookshelf, you can access them anytime, anywhere.
Buy Access
Play and Child Development, CourseSmart eTextbook, 4th Edition
Format: Safari Book
$49.99 | ISBN-13: 978-0-13-259716-6