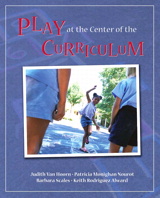 Description
Play at the Center of the Curriculum
is a resource for those who want to engage children in a developmental zone where children and teachers are learning. Current and future teachers are guided in methods of supporting children's progress through play.
This book carefully blends theory and practice. As seasoned teachers, we demonstrate how to draw both the methods and the content of a successful curriculum from children's play. We interweave anecdotes of children's play, theories of play and development, and instructional strategies that place play at the center of the curriculum.
Table of Contents
Looking at Play Through Teachers' Eyes
Play and Development: Theory
Play as the Cornerstone of Development: The Literature
Orchestrating Children's Play: Setting the Stage
Orchestrating Play: Interactions with Children
Play as a Tool for Assessment
Mathematics in the Play-Centered Curriculum
Language, Literacy, and Play
Science in the Play-Centered Curriculum
The Arts in the Play-Centered Curriculum
Play and Socialization
Outdoor Play
Play, Toys, and Technology
Conclusions: Integrating Play, Development, and Practice
References
Name Index
Subject Index
Purchase Info ?
With CourseSmart eTextbooks and eResources, you save up to 60% off the price of new print textbooks, and can switch between studying online or offline to suit your needs.
Once you have purchased your eTextbooks and added them to your CourseSmart bookshelf, you can access them anytime, anywhere.
Buy Access
Play at the Center of the Curriculum, CourseSmart eTextbook, 5th Edition
Format: Safari Book
$45.99 | ISBN-13: 978-0-13-706074-0