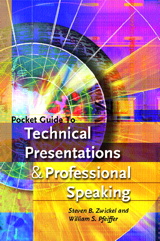 Table of Contents
(Note: Each chapter ends with Exercises).
Overview of Technical Presentations and Public Speaking.
Audience Analysis.
Know Your Purpose.
Coping with Anxiety.
Organizing Your Presentation.
Illustrating Your Presentation.
Using Graphics.
Delivering Your Presentation.
Evaluating Presentations.
Adapting to Different Situations.
Appendix: Resources for Presenters:
General Presentation Tips. Learning More About Companies and Organizations. Establishing Credibility. Presenting to International Audiences. Speakers' Associations. Persuasive Presentations. Impromptu Speaking. Using Your Voice and Non-Verbal Communications. Coping with Anxiety and Stage Fright. Finding Quotations and Presentation Ideas. Microsoft PowerPoint. Alternatives to PowerPoint.